Performing Arts Through The Ages: Seabury Hall's PAST/FORWARD Show
Seabury Hall's PAST/FORWARD show, celebrating the Ten-Year Anniversary Celebration of the ʻAʻaliʻikūhonua Creative Arts Center (CAC), took place over the weekend of September 23 and 24 of 2022. The PAST/FORWARD performance aimed to link Seabury Hall performing arts students throughout the years, with the collaboration of 130 current performing arts students, two visual art students, seven guest alumni, nine faculty, a working crew of both students and faculty, and dozens of parent volunteers. 
The show, being extremely early in the school year, differed greatly from the usual content and performance dates of past school years. However, it did not stop the success or scale of the ʻAʻaliʻikūhonua Creative Arts Center's celebration. David Ward, Performing Arts Director and organizer of the event, described the PAST/FORWARD show as "by far the biggest show I have ever attempted in my 35 years at Seabury Hall." Acts ranged from hula, acting, spoken word, musical theater, dance, rope, band, and more, showcasing the wide range of performing arts opportunities at Seabury Hall. 
The incorporation of alumni in the performance, as well as the collaboration between alumni and current performing arts students, helped demonstrate the continuation of Seabury Hall's performing arts community. Alumni included Molly Bauckham '93, John Bendon '96, Rachel E. Berman '07, Amelia Couture '02, Juliet Green '86, and Isaac Raz '86. Some of the performances included rope and jazz performed by Amelia Couture, harpist Molly Bauckham's performance with student singers and Seabury's ballet program, the duet by john Bendon and his son, Rachel Berman's singing and dancing numbers, Juliet Green's choreography, and Isacc Raz's pianist performance.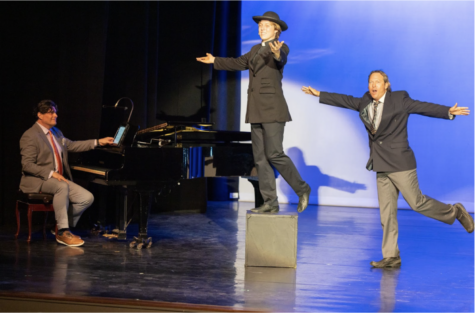 [Courtesy of Mr. Berkotwitz]
Seabury Hall's performing arts legacy shines through in other ways too, such as seeing the involvement of alumnus John Bendon and his son Jack Bendon– a current performing arts student– throughout both of their Seabury Hall high school careers. 
Mr. Bendon was very involved in Seabury Hall's acting and musical theater programs, beginning his performing high school career in the library and cafeteria. Later on, he was able to perform during the opening of the AIMS center and the opening of the ʻAʻaliʻikūhonua Creative Arts Center. Now, Mr. Bendon continues his performing career through the 10-year anniversary performances. 
Mr. Bendon says, "It's amazing to see my son involved in the performing arts at Seabury. But it's one of those things you can't force. It has to be natural. It's great to see him enjoying it and to see all of the performers backstage. The energy that's there made me remember why I was involved."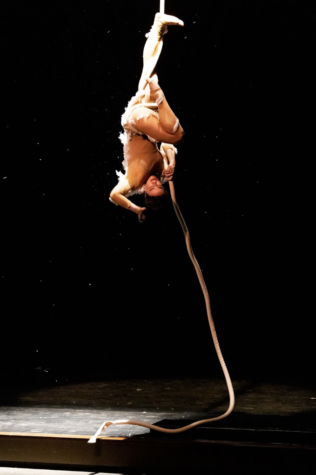 [Courtesy of Mr. Berkotwitz]
More PAST/FORWARD photos can be found at https://www.seaburyhall.org/arts)