Seabury Hall's Take On "The Addams Family": A New Musical Comedy
Family, friends, and faculty alike were amazed at Seabury Hall performing arts department's stunning two-weekend performance of The Addams Family: A New Musical Comedy. Opening Friday night, November 11th to 13th, and closing the subsequent weekend with three performances from the 18th to the 20th, the entirety of the cast worked tirelessly to create a beautiful and fun performance. To the astonishment of some audience members, who were new to the storyline of the musical, the comedy possesses many adult themes which the performing arts department was able to characterize with maturity and professionalism.
The performance opens with the introduction of the members of the Addams family: Gomez, played by 12th grader Kristian Lloyd Roque, Morticia, beautifully characterized by 10th grader Bobby Goldyn, Wednesday, depicted through 12th grader Jadyn Gurley, brother Pugsley played by Oliver White, Uncle Fester, amusingly acted by 11th grader Avery Ardoin, and Grandma, acted by 10th grader Rylee Stout. As the show depicts the Addams family welcoming their ancestors back in their graveyard in celebration, Uncle Fester forces the ancestors to watch while Wednesday introduces her new and very "normal" boyfriend and his parents to the Addams family. The audience then follows Wednesday and her boyfriend's struggle to tell the families they are to be married, and begin to wonder if they even should go through with it.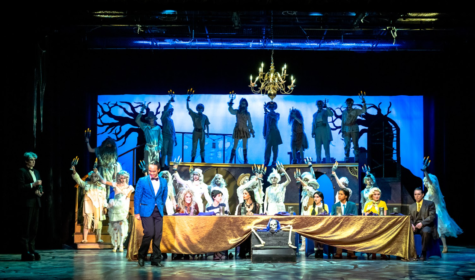 [Courtesy of Brian Berkowitz]
The boyfriend, Lucas Beinecke, played by Sean Cortez in the production's first weekend and by Alexander Wolf Pell in the second, was introduced alongside his parents Alice and Mal Beinecke, amusingly characterized by 11th grader Luz Bridgeford and 10th grader Jack Bendon. As the family meets to have dinner, their dissimilarities become clear and things quickly go awry.
With a ta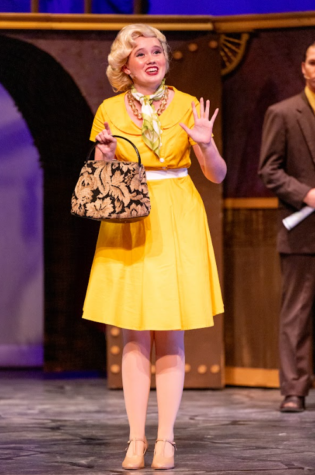 lented cast of 11 principals and 23 ensembles, Seabury Hall's memorable portrayal of the comedy granted the cast a standing ovation and sold-out shows for multiple nights. The two-weekend performance truly displayed the talented students of the performing arts department, as well as the excellent direction and choreography of David Ward and vocal direction by Julia Golding. 
"I am so very honored to have been picked for the role of Alice Beinecke. She's such a fun character to play and act out. It was the first time I have ever sung in front of a crowd, especially singing opera. Again, it was definitely very scary at first, but I'm really happy I did it!" says Luz Bridgeford on her role as Alice.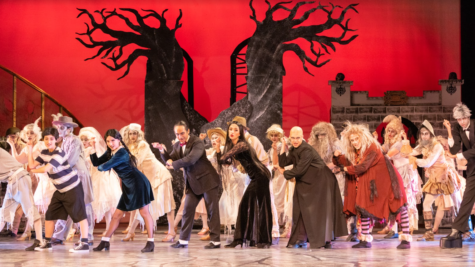 [Courtesy of Brian Berkowtiz]