New Teacher Spotlight: Mr. Ray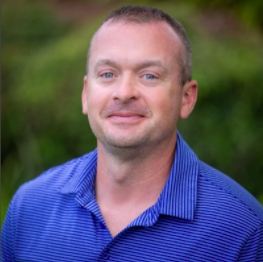 Mr. Ray, the Upper School's newest history/social studies teacher, can commonly be seen enthusiastically discussing macroeconomics or supervising the action-packed Game Theory Club in his room. However, his expertise extends far beyond the classroom, as the Seabury Tides quickly found out when we decided to interview him for the first edition of the New Teacher Spotlight.
Where did you grow up?
       A small farm town in Indiana—I joined the Air Force at age 20 to escape and to have college paid for.  
What made you want to become a teacher?
       I had some great teachers and coaches in high school that helped give me the guidance and support that many kids don't necessarily get at home from parents or other family members. I realized that without them I might have gone down the wrong path. It made me want to return the favor as I got older.  
Is this your first year on Maui?
       I moved to Maui in July 2018.
What made you want to move to Maui?
       After joining the Air Force I was stationed and lived on Oahu for 9 years, so that gave me my first introduction to Hawaii. I then moved to Las Vegas and taught there for 12 years. I really missed living in Hawaii so decided to move back "home." I didn't want the city life of Honolulu, so I decided on Maui. 
What do you do in your free time?
       I love scuba diving and being under water. In fact, I became a divemaster so I can work part time on a boat to get free boat diving every weekend. 
What surprised you most about teaching?
       I have worked other jobs; a steel factory in Indiana, and my time in the Air Force. It surprised me that teaching doesn't feel like a "job" to me, I enjoy it so much more than I ever thought I would. 
Why did you choose to be a Social Studies/History teacher?
       I loved learning about history growing up, looking at why things happened and how we got to now. I want students to understand that history is more than names and dates, and that we all play a part in it. 
Have your students taught you anything?
       I have worked at several schools in my 18 years of teaching and have taught students from all walks of life. I think the biggest thing I've learned is that there aren't "bad" students, but bad things that have happened to students, which causes them to behave in certain ways. I always try to remember this when engaging with students. 
What is the main focus in your classroom?
       Since I teach mostly AP classes, the main focus is guiding the students to learn and understand the skills required for the deeper level thinking and content we look at in these courses. 
What's one piece of advice you would give your students?
       One of my favorites, and to paraphrase Oscar Wilde: Just be yourself, everyone else is already taken. You do you.  
What are you dressing up as for Halloween?
       Nothing, and I know I will be shunned for this, but it is my least favorite holiday.   : ) 
What's a fun fact about yourself?
       I was a Vietnamese Linguist while in the Air Force. They sent me to a language school to learn the language, which I then used in my first job in the Air Force. It was a long time ago, and I didn't keep up with it, so my fluency is pretty bad now. 
Anything else you want to add?
       Out of all of the schools I have worked in, I can honestly say Seabury Hall is my favorite. The students here are amazing and so much more than I ever expected. Mahalo to everyone for making me feel so welcome!