There's Always a First for Everything: Seabury Hall's National Junior Honor Society!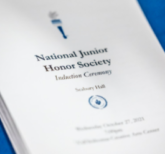 [Courtesy of Bryan Berkowitz]
     As of October 27, 2021, at 7 pm, on the 100th-year anniversary of the National Honors Society, our very own Seabury Hall's seventh, eighth, and ninth graders attended their first National Junior Honors Society induction ceremony. Not only was this the very first induction ceremony our seventh, eighth, and ninth graders would be attending, but this would be the very first induction ceremony Seabury Hall would ever be holding for a National Junior Honors Society. As Seabury Hall continues to introduce new members to its Upper School National Honors Society for its Junior and Senior Upperclassmen, we all knew it was time for our Middle Schoolers and Freshman to join in on the fun! With the lighting of candles and the taking of photos by many proud parents, as well as the many beautiful speeches from our Seabury Hall's staff, such as our head of school, Mrs. Madden, our school priest, Father Chris, our Upper School head, Mr. Toda, and our Middle School head, Mr. Proctor, the exciting night commenced!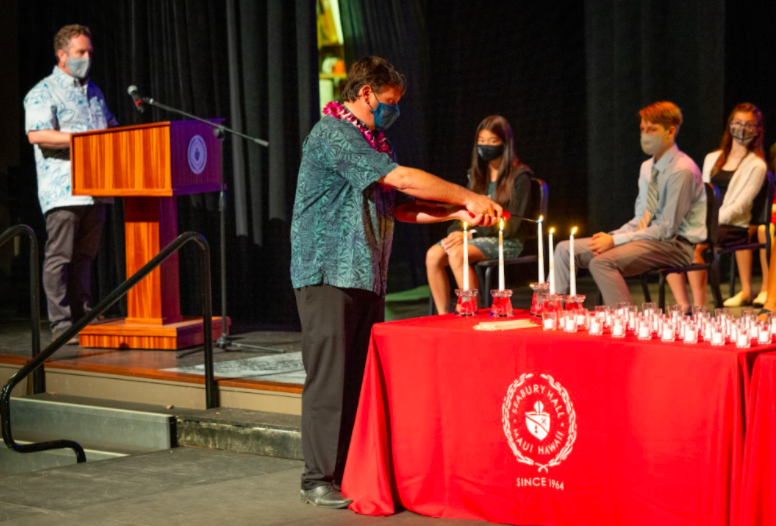 [Courtesy of Bryan Berkowitz]
     For those who may not know, it is a great accomplishment to become a member of the National Honors Society, let alone the National Junior Honors Society, for younger students, both Middle and High schoolers alike, to become involved in community service opportunities and leadership roles. Ultimately, the National Junior Honors Society has over a million Middle and High school student members nationwide and allows students to become, "stronger leaders and…role models for the people around them," with the added responsibility of being "school ambassador's" during community service projects that are completed for the improvement of our shared community, whether it be on-campus or off-campus. Mr. Walsh also emphasized the fact that being a National Junior Honors Society member and applicant is more than just fulfilling a quota by being a "president of a club" or "volunteering at the homeless shelter," it is being a "selfless and honorable" student who is committed to making a difference in their community. 
     Going into the ceremony, ninth-grader Isabella Trumbo, class of '25, states that she could tell that, "everyone was excited to be there…[as] they all waited eagerly to be called up and light [their induction] candles." Following the values of scholarship, leadership, service, character, and citizenship, a total of 45 seventh, eighth, and ninth graders claimed their membership in the National Junior Honors Society by walking on stage, lighting a candle, and accepting their membership certificates, in which our school photographer, Mr. Berkowitz, captured every happy and joyous face passing by. Even Mr. Walsh exclaims that the induction ceremony itself, "went better than [he] could've dreamed or expected," after an "extensive" application process of 62 qualified students. Nonetheless, Mr. Walsh recognized that "When [he] looked over the 45 [inductees], it felt right. Even though it [was] a lot of kids…looking at [all] the individuals that [he's] had as students and the kids that [he's] going to have as students next year, it felt right; especially when representing the first class of the National Junior Honors Society."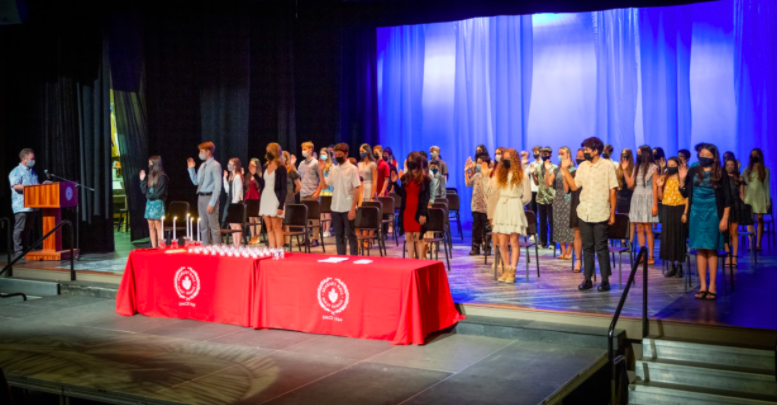 [Courtesy of Bryan Berkowitz]
     As for the ceremony itself, I could tell that students waited anxiously in their seats on stage to be called up to light their induction candles in front of a large crowd of overly excited and proud parents. This induction ceremony was a place and time for our students to "shine" and to feel "special and recognized" for all their achievements that led them to being accepted into the National Junior Honors Society. In addition, during an interview with Mr. Walsh, it was noted that the "ceremony changed kind of last minute," where Mrs. Madden, Mr. Proctor, and Mr. Walsh all admitted to having different visions of how the induction ceremony should go, but in the end, I could not have be more dazzled by the way in which the speakers congratulated the incoming student members, and how each student was able to share their time, quite literally, in the spotlight, as all of these students deserve to be recognized. I can whole-heartedly agree with Mr. Walsh, that when we says that although he has never seen an induction ceremony before, or has had experience "hosting one before, [we] think it did everything it should've done," if not more.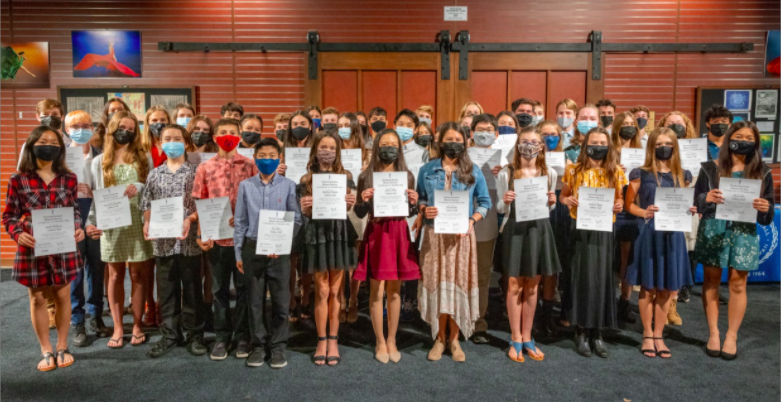 [Courtesy of Bryan Berkowitz]
     Finally, at the end of the ceremony, friends and family gathered together in the lobby for one final group photo, later to share both candy and flower leis, including many thanks and congratulations. Overall, Seabury Hall's first National Junior Honor Society induction ceremony was a success and a warm welcome for all our new National Junior Honor Society members and ohana, that will surely be remembered in the kind hearts and minds of parents and students alike.
*To all of the newest National Junior Honors Society members: Congratulations, Spartans!
An Interview with Mr. Walsh: 
(the National Junior Honors Society Advisor and Teacher Leader)
1) What does it mean to you to be introducing a new form of National Honors Society for our seventh eighth and ninth graders in the form of a National Junior Honors Society (NJHS)?
     It is going to give students who need or want to have the added responsibility and outlet for their leadership a chance to be stronger leaders and to be role models for the people around them. The grade is the qualifier but everything else that goes along with it is what makes it unique and special, and gives a pretty powerful group of students the ability to shine even brighter. 
2) How many inductees were there for Seabury's first NJHS induction ceremony? And what were your feelings going into the ceremony?
     When I looked over the 45 kids, it felt right. Even though it's a lot of kids, and looking at the individuals that I've had as students and the kids that I'm going to have as students next year, it felt right; especially representing the first class of the National Junior Honors Society. 
     The ceremony changed kind of last minute. What we imagined what it was going to be, even on Tuesday, was different than what it ended up being. There's no explanation for it, but Mrs. Madden had a vision, Mr. Proctor had a vision and I had a vision, and we were all jocking in a serpentine way trying to figure out how to make it all work. Finally, we decided on the individual lighting of the [candle] votives for 45 kids to safely light those flames. The long answer to your question: it went better than I could've even dreamed or expected. I think the kids felt special and recognized, and the words that the speakers spoke, [including] Father Chris, Mrs. Madden, and Mr. Toda, all individually did a fantastic job and it all came together beautifully, I thought. For never having seen one [an induction ceremony] before or hosting one before, I think it did everything it should've done. 
3) What is the application process like for both students' and teachers' decisions? What was this process like for you personally and what is it that you are looking for in an NJHS member?
     It was a little bit of a struggle to try to streamline it. We had 62 students who qualified for it based on grades and looking at that number, I had to figure out a way to make them want it. So I figured if I made the application extensive, having to write an essay, then maybe it would widdle down to the people who really wanted it. From the 62 students, I ended up getting about 52 applicants, which was still a lot. So trying to figure out, even from that, I was like "uh oh." In the application process, they had to write an essay, [including] ways they've shown community service and leadership, and that was just based on their core classes. Then [they would] evaluate their behavior in elective classes. I thought it was going to turn a lot of people off, but it stayed pretty much the same. From there I had a panel of five teachers look at the applicants to give their best opinion about knowing the student and seeing if their application was their chance to flex on everything that they've done. They took all this into consideration and looked over a rubric I created that Mrs. Madden and Mr proctor approved and we tried to quantify it [, the applications,] and look at the list to see what felt right and whittled it down to 45, which is still a lot. I think it will be an interesting obstacle to see how we can get all 45 kids to participate and be ambassadors for our school. 
4) If someone is interested in joining NJHS, what do they need to know?
     The people that we turned down or didn't quite make the cut, was hard because, on any given day, they could've still been qualified, but especially with COVID and being a young person, it is hard to show leadership, and it's hard to get out and do community service because you don't have the opportunities, you don't drive, and we're not as social in the past because of social distancing and masks. It's hard for a kid to fill out an application and truly show what they've done as far as leadership. But there are still other ways of being a leader than being just president of a club and there are other ways of showing community service than just going to the homeless shelter and volunteering so you just have to find your moments. I encourage those who didn't make the cut to still reapply and see where you can and have made a difference because I bet you if you take a wider view, you probably have made a bigger difference in people's lives than you realize. That would be my one piece of advice to people interested in applying. Don't just rush and fill out the application because that's what the expectation is, instead, think of ways that you have shown that you deserve to be a part of this group based on your leadership and social responsibility to our community. 
5) For those who do not know, what does NJHS do and what will they be doing in this upcoming year?
     From what I understand, and I'm still in the baby phases of it and a rookie in all this stuff, I'm putting it together and talking to Nikki Fernando, the president of the Upper school National Honors Society club, kind of what they do and seeing how we can emulate and do similar things [and service projects]. From what I understand, the first thing is to elect a board of students and decide on a project we want to fulfill. At the end of the day, that's what it's really about: showing service to the community but also being that example of a student who is selfless and honorable. It is the honors society after all. Throughout the year it will be our goal to find a way, maybe through the help of Father Chris too, to seek some opportunities, especially being young and not being able to drive and being sort of cut off from other human beings, we're going to have to get creative. Mrs. Madden wants us to be a support to other students, such as peer tutoring like Niki announced at assembly, so it's going to be the first step and then we can see how we can fill in other gaps later on. 
6) What inspired you to begin an NJHS chapter? 
     Good question. I wasn't a part of it when I was in school, I'm not even sure we had a National Honors Society in my high school…I don't remember it being a thing. We always had the honors ceremony and the head of school ceremony at the end of the school year at Seabury and it always seemed to me like there's gotta be a better way to utilize the talents of those students. Those students are high fliers, but I don't know that they always get to fulfill everything they want to fulfill. And so what Mrs. Madden suggested with Mrs. Neil, the former Middle school head, is that we do this, not in place of the honors list or the head of schools ceremony, but to enhance it and take those kids who would probably be recognized anyway on stage, and not take away from their accomplishments, but give them another opportunity to shine and take their desires to show leadership and be a bigger part of the school.