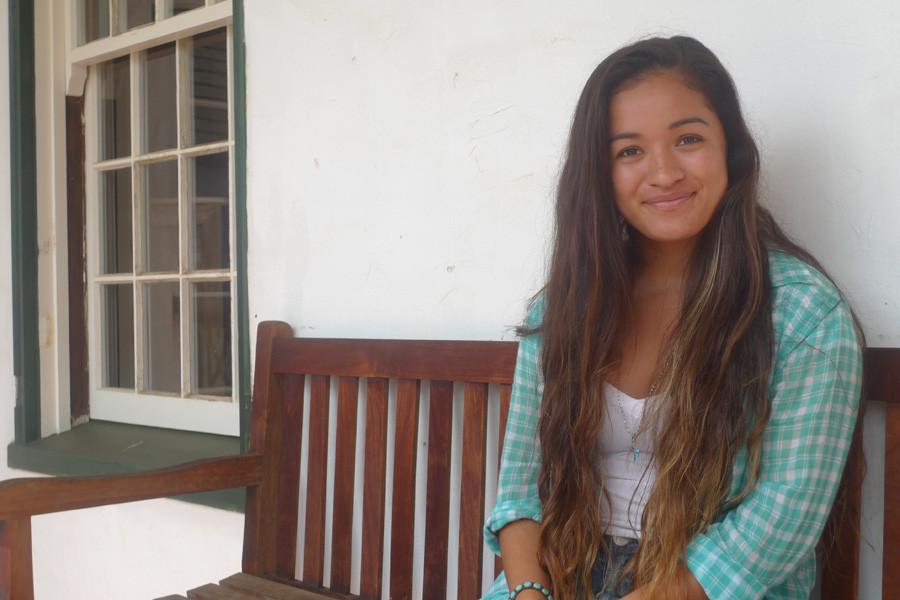 Don't be surprised if you step into Mapuana Andrade's car and find sandy floors and salty seats. Since she could walk, she is always out on the waves with her Kazuma longboard, her two sisters and her merman of a dad. Andrade's two sisters, Nanea and Hi'ilei, have been her two soul mates since she was born. She expresses this with her three Iwa bird tattoos on her wrist, which she got when she was sixteen.
Andrade thrived at Iao Intermediate school in Wailuku while spending her afternoons playing with her two canine loves, Piko and Ehu. Besides her obsession with the ocean, her dogs, and Caramel Macchiatos, she is a girl that has an unlimited admiration for the world beyond her island bubble.
Andrade has family around the United States, Spain, and Germany thanks to her New Mexico-native mom and her father's mainland-based Hawaiian family. She enjoys visiting her mother's family in la pequeña ciudad de Albuquerque where the food is spicy, the music is exotic, and the family is loving. Andrade learned to love traveling thanks to her constant trips to New Mexico where she noticed how she stood out with her sun-bleached hair, tan skin, and bubbly personality.
Today, she studies at Seabury Hall, where she is a senior balancing college applications, her social and family life, and maintaining her spot on the headmaster's list. The 2015 winter season marks her fourth year as the Varsity girl's steersman. Andrade has accomplished MIL Championships, a State Championship, two "MIL All-Star" paddler awards, and one "Maui Paddler of the Year" award.
Her friends would describe her as someone who can not sit still without bouncing her legs, avid hater of Wasabi and seafood, occasionally the bearer of the most dreaded hair at Seabury (thanks to daily ocean time), a little travel bug who is constantly on a plane, and the worst at controlling the volume of her unstoppable laughter.
Andrade sees herself attending the University of Washington in Seattle, where she fell in love with the coffee-ran, metropolitan city. Andrade sees an "all-American" education as only scratching the surface. She has plans to study in Barcelona, where she hopes to intern as a journalist at an international fashion magazine as well as venturing to Paris to become educated on French culture, fashion, people, and whether their language is as swooning as they say.
Mapu Andrade, Staff Writer
May 19, 2015

Opinion: Rostvold vs. society: Challenging how society views women's bodies

(Story)

Apr 29, 2015

Seabury Hall's girls water polo team burns a path in the pool

(Story)

Apr 10, 2015

Opinion: From musubis to baguettes: A reflection on my trip to French Polynesia

(Story/Media)

Mar 05, 2015

Opinion: From the hallway to the runway, Seabury Hall's fashionistas know how to rock the looks

(Story)

Mar 05, 2015

Review: 'Black or White' finds color in all that is black and white

(Story)

Feb 05, 2015

Natasha Salamack: International entrepreneur at age 18

(Story)