Seabury Hall students shared hula and aloha on He Ha'upu Aloha
On Friday, May 2, Seabury Hall had its annual He Ha'upu Aloha celebration. Students dressed in colorful costumes illuminated the lawn around Seabury Hall's reflection pond, while beautiful music filled the air. It was definitely a day to remember.
He Ha'upu Aloha was a day for the Seabury Hall community to not only honor the islands but also for students to show their passions and talents.
Rowan Mulligan, a senior who dances hula as an extracurricular activity, said, "It's not the same experience, but it's a different experience in that I get to do stuff with my classmates that usually I only do outside of school. It's kind of cool for us to come together and do one of the passions I love outside of school and be able to do it inside of school."
The day encourages students to be immersed in Hawaiian culture and to perform a traditional hula for an audience.
Leimomi Ah Sing, the middle school hula teacher, said, "[He Ha'upu Aloha] provides a connection to culture. It provides a connection to place to students who may not be aware of the culture that they live in."
Even though that some students are not originally from Hawaii, like freshman Sierra Schonberg who is from Alaska, all students get a chance to personally experience the Hawaiian culture.
Schonberg reflected on the event, "It was fun to try something new and get to experience hula."
Schonberg had never danced hula in her life until He Ha'upu Aloha. Without He Ha'upu Aloha, Schonberg would not have the chance to learn and dance hula in front of her family and friends.
Senior Mogul Lu'uwai played a major role in helping the senior boys learn their hula. "It was actually kind of difficult because we have a lot of kids who like to play around, so getting them organized was pretty difficult. But I got them to do it," Lu'uwai explained.
The seniors this year had to not only learn the dance but also memorize a chant to go with the hula. It was a hard task, but when the event arrived, the seniors pulled it off rather gracefully.
Lu'uwai described his classmates efforts, stating, "We all had our goals of doing it really good when we had to on He Ha'upu Aloha, which we did. I was pretty proud of them and glad that they actually pulled through."
The two magnificent ladies who made it all happen with the students were Leimomi Ah Sing, who choreographed middle school's dances, and Kumu Nāpua, who organized the day and choreographed the high school's dances. Kumu Nāpua also chose the theme and what island each class was assigned to represent. She played a major role for the day because she was the one that is in command and sings the songs for all the dances by the school's classes.
This year's theme for He Ha'upu Aloha was "aloha aina." Ah Sing said, "[The theme is] aloha aina, so it would be love of land. So we pretty much payed tribute to all the different islands. Most of it had to do with a specific place or specific conditions of that particular land or island."
The meles or songs were chosen based on the hula teacher's knowledge. Ah Sing said, "The mele was chosen based on what I already knew for those particular islands."
Once the islands and meles were chosen for the grades, the hula instructors began to choreograph the dances. The dances interpreted what the mele was describing. For example, in the seventh grade's dance they performed the mele "Aia La o Pele."
Ah Sing described the mele, stating, "Even though Pele is a deity in this particular chant it talks about how she digs in and munches on the land in terms of trying to build her home and Killawala."
From this interpretation, the seventh graders wore black and red indicating the lava and Pele. The dance was strong and the students danced beautifully to the song, even the boys.
Ah Sing said that she loves when "[students] actually perform it to their best abilities and that they enjoyed it and they had fun."
He Ha'upu Aloha was a magical day that celebrated the Hawaiian culture in a beautiful way. The faculty and students appreciated the day and the opportunity to take a part of a trandition that has been practiced for centuries.
About the Contributor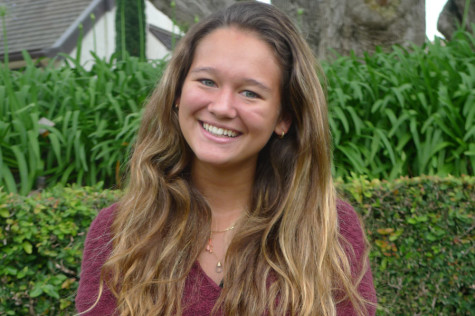 Ava Shipman, Staff Writer
Ava Shipman is a freshman at Seabury Hall. She has been attending the school since the sixth grade, and she has enjoyed what it has to offer her. Her favorite...