Seabury Hall students enjoy the Lahaina Scavenger Hunt
On Friday, May 2, the students of Seabury Hall embarked on a journey to other side of the island to give Lahaina's tourists a vacation to remember. Shortly after Seabury Hall's He Ha'upu Aloha ceremony, over 130 upper school students traveled to Lahaina to participate in a video scavenger hunt.
The event has been a tradition at Seabury Hall since 2002. The object of the game is for groups of four to six students to "collect" videos of their group doing wacky things with tourists on Front Street, Lahaina. This year, there were over 100 challenges that ranged from teaching people hula to singing the alphabet in front of ABC Store. Each video was worth one to three points, and the winner of the day was the team that got the most points. This year's winners were "Team Rocket" in first place and "Team Power-Puff Girls" in second place.
With only two hours to complete the scavenger hunt, getting this many points seemed almost impossible. However, junior Allie Rudow from "Team Power-Puff Girls" said her team did so well by "just having fun with it and asking everybody to do something."
According to senior Carter Umetsu, captain of "Team Rocket," "We made sure we only had to run up and down Front Street only once. We didn't even count up our point total because that would have taken too much time that could have been spent earning more points."
Some of the challenges have carried on throughout the years, but there were several new additions as well. According to Scott Winham, upper school head, one of the hardest parts of planning the scavenger hunt is "coming up with fresh ideas for the list."
Some of the challenges the victors found to be difficult were "the ones that took big groups of people," according to Rudow.
Planning the date also had the added challenge of timing. Occurring on the same day as the Lahaina Scavenger Hunt was the Seabury Hall Dance Showcase, a baseball game, and senior night. In order for students to be able to attend all the events, the activities committee had to come up with a plan.
After the Lahaina Scavenger hunt ended at 3:00 PM, one bus took some students straight back to Seabury Hall, while another bus took the rest of the students to the Ma'alea miniature golf course, a fun family attraction complete with mini-golf, rock climbing, and bumper boats. According to Winham, going to the mini golf course "might happen again, depending on the timing of the event."
While the Lahaina Scavenger Hunt may seem like a silly event, upper school dean Louis Turbeville argued that "it gives an opportunity for the students to interact with other people and strangers and work on their communication skills." It can be described as "controlled craziness"  and "intense."
All in all, the Lahaina Scavenger Hunt is an event that is all about having a good time. "It gives [the students] a safe avenue to have a lot of fun together. It makes a good impression of the school, and it just gets the kids to kind of blow off steam in a safe environment," said Turbeville.
The scavenger hunt is a unique tradition that almost every student at Seabury Hall looks forward to every year. If you have not participated in the event before, you should consider participating in next year's event.
About the Contributor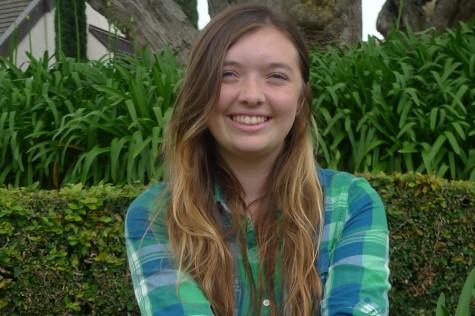 Jessica Brown, Staff Writer
Jessica Brown is a senior on the Seabury Hall Journalism staff. At the age of nine, she moved to Maui from a small town in California, and she has attended...