They've got spirit! Yes, they do! They've got spirit! How 'bout you?
An introduction to the 2014-2015 Spirit Committee
Now that next year's student council has been elected, the 2014-2015 school year is shaping up to be something to look forward to. Seabury Hall has always had many activities centered around school spirit, making the spirit committee essential to a fun and lively year.
Next year's spirit committee is made up of Shun Harima, Michael Chasen, Jaxon Stinger, Justin Ringsby, Hayden Timmons, and Sophie Janssen. Harima, Chasen, Stinger, Ringsby, and Janssen are currently juniors; Timmons is currently a sophomore. Considering this impressive combination, next year's spirit levels should be off the chart.
The purpose of the spirit committee is "to support student council in creating a positive student experience," stated dean of students Louis Turbeville. "This can be done through a variety of methods. In the past, this had included things such as announcements, Senior Night, pep rallies, etc.," said Turbeville.
School spirit is an important element in our Seabury Hall culture. "Student council is a vital part of ensuring a vibrant and supportive community," said Turbeville.
This spirit committee is very determined to liven up the school. Committee member Harima said, "I believe with our efforts as a committee we can take [school spirit] to a new level."
Committee member Ringsby also thinks that this committee is going to bring a new level to school spirit. He said, "I think we're very spirited, but we can be more spirited. It'll get even better next year."
Upper school head Scott Winham hopes that the committee will be "creative in coming up with ways to raise school spirit."
Spirit committee member Janssen said, "I feel that the group we have is awesome and we have every skill we need covered." She also believes that the group represents a wide range of people at Seabury Hall.
Ringsby agreed, "We have really intelligent people, really athletic people, and really creative people, so people from all these different backgrounds that come together to form a really strong spirit committee."
The people on the committee were not good friends before forming their team. However, each student has something to give to the community and they are determined to work together to create an exciting school year.
The committee has been planning tons of new activities and changes. "I want to add the slip'n'slide day with the foam room back, a [school-wide] easter egg hunt, tailgating, student-designed spirit shirts, slipper days, and more pie eating contests," said Janssen. "I also want to change the games that we play at Spartan Olympics."
Another focus of the group has been sports events. "We would like to give more motivation and incentive to attend athletic events in whatever way possible," said Harima. One thing the committee has discussed is a halftime performance at sports events.
"Spirit is extremely important because it helps our sports do better. Sports are always better when there's a crowd," said Ringsby.
They plan to increase school spirit and participation on a daily scale by "making better announcements, and working better with the other student government members to [increase] organization and teamwork," stated Harima.
Why is school spirit so important to have? Turbeville said, "Who would want to be at a place that was not fun and exciting to be at?  If we don't have school spirit, then there would be less motivation to attend school."
Janssen agrees that "spirit is really important, as it gives kids a chance to release the tension and stress that comes with going to school here and just have a good time."
"Spirit also translates to pride," explained Harima, "which is very important to have in our school."
The Seabury Hall faculty have high hopes for the spirit committee. "Next year I hope the spirit committee is consistent in offering congratulations to all of the students athletics, activities, and extracurriculars," said Winham.
"I expect them to realize their job is not to ensure they have fun, but rather to ensure that everyone is having fun," said Turbeville, "They need to be committed to wanting to make school a place where students want to be, while providing students with safe and fun ways to socialize and support one another, whether it is in or out of the classroom."
Seabury Hall's future spirit committee have a lot of potential to make the school year amazing. Here's hoping that the 2014-2015 school year is full of fun and spirit.
About the Contributor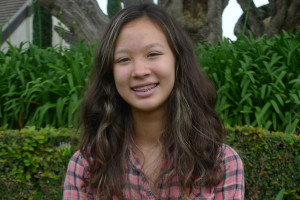 Faith Berry, Staff Writer
Faith Berry is a freshman at Seabury Hall. She has attended Seabury since sixth grade, making this her fourth year at the school. Her favorite subjects...