Seabury Hall students aim to raise awareness for lupus
What is lupus? You probably know someone with this disease, but you might not know what it is. Most people do not know what lupus is despite its commonness; one and a half million people in the United States have lupus. Lupus is an autoimmune disease in which the immune system attacks the body's own healthy cells and tissue.
Rowan Mulligan, a Seabury Hall senior, has brought support for the awareness of lupus to Seabury Hall with Lupus Awareness Month. During Lupus Awareness Month, which is the month of May, Seabury Hall's Interact Club has hosted many events in order to raise awareness and help raise funds.
Freshman Aria DiMartino, an active member of the Interact Club, shared, "I thought it was great since not a lot of people know about lupus, and it affects a lot of people's lives. I'm happy more people are aware of it at our school."
On Wednesday, May 7, the Interact Club sold purple shirts. On Thursday, May 8, they sold purple balei. On Friday, May 9, they sold sprigs of lavender; also, May 9 was Lupus Day. On Saturday, May 10, they club a booth at Seabury Hall's annual craft fair.
Mulligan decided to host Lupus Awareness Month because she was diagnosed with lupus two years ago and did not know what it was. Also, she wanted to give back to the community by education then about lupus. Mulligan is president of the Interact Club and saw the opportunity  to fulfill the promise she made to spread awareness of lupus.
Ms. Pirsch, Seabury Hall's Interact Club advisor, said, "The Interact Club is the man power behind Lupus Awareness Month with bake sales, tie-dyed shirts, and information."
Mulligan is also not just working alone, or just with the Seabury Hall community. She is working with the Interact Clubs of King Kekaulike High School, St. Anthony Junior-Senior High School, Maui High School, Maui Preparatory Academy, and Baldwin High School.
Mulligan hopes that Seabury Hall will have Lupus Awareness Month in the years after she leaves for college.
There are three types of lupus. Systemic lupus erythematosus is a variation of lupus that negatively affects the skin, mouth, kidneys, brain, lungs, and heart. Discoid lupus affects the skin. Drug-induced lupus is caused by various medications.
Lupus has many variations of symptoms. Some common symptoms includes: Arthritic joint pain and stiffness with and without swelling, muscle aches and pains, chronic and spontaneous fever, extreme fatigue, anemia, impaired concentration, memory problems, confusion, kidney function impairment, chest pain, butterfly-shaped rash across the nose and cheeks, sun and light sensitivity, and hair loss.
Lupus is most common in women, Africans, Hispanics, Asians, and while it is known to affect people of all ages, it most often diagnosed between the age of 15 and 40.
Mulligan shared, "I would like to thank the community for being so supportive of this endeavor to raise awareness of lupus. They embraced me and this cause wholeheartedly, and for that, I will continue to be grateful. I guess the only thing left that I would like to say is to please like us on Facebook: Maui PLEDGE LUPUS, post pictures using #lupusawareness and #supportingacause, and wear purple on Lavender for Lupus Day. Mahalo nui loa."
About the Contributor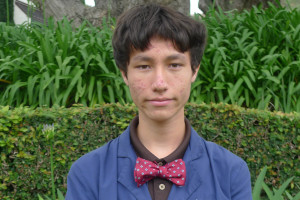 Aaron Rohozinski, Staff Writer
Freshman Aaron Rohozinski is the only male student journalist on "The Seabury Tides" staff. Rohozinski has Seabury Hall since the sixth grade, and he is...