Seabury Hall's beloved chorus teacher will retire this year
Stephen Haines, Seabury Hall's chorus teacher, will be retiring in May at the end of this school year. This is his eighteenth year at Seabury Hall, and he teaches chorus to both middle school and upper school students.
Haines' love for music definitely shows. Haines has had a passion for music for about 60 years. Starting at the age of six, he began taking piano in grade school, and he was in chorus throughout middle school, high school, and college.
Jacqueline Peterka, the middle school head, shared that Haines is a "gifted musician and committed educator." She has worked with Haines for the last eight years.
When Haines first arrived here at Seabury Hall, there was no chorus in the middle school, which he changed by making a chorus class for middle school students.
"When we started chorus in the sixth grade, they rotated throughout chorus, so Haines would have the opportunity to teach every kid music. He helped them find out more about themselves," Peterka shared.
Haines said, "Music education is important for a lot of different reasons. If we just go to the basic scientific reasons, it connects left and right brain activity, so students who learn how to read and perform music are increasing their intelligence not only in music but in everything else they do."
Junior Mikela Wesson has been a part of the chorus program since her freshman year at Seabury Hall. Wesson said, "It is really the one class I am excited for every single day. Mr. Haines always picks songs out for us that he will know we will have fun singing. He is a very brilliant musician, and has taught me a lot."
Wesson shared what she will miss Haines' "amazing talent and presence."
"He is really an easy person to talk to and can be so comfortable around him. He was always open to helping me all the time after school and to work on my song when I was Dolly in 'Hello Dolly.' He is such an open person, and has definitely put his time in at the school and deserves recognition and honor for all achievements and productions he has been a part of. He has done so much that is not necessarily has been fully recognized at school and really deserves all the appreciation he can get," Wesson said.
Seventh grader Nattharika Kaonachaithawon said,"We do not want him to be replaced. We will miss him very  much." A great memory Kaonachaithawon shared was "at times in class we would get up in class and just dance."
Addition as being a chorus teacher Haines also served as an advisor to seventh grade boys. Peterka explained, "He is so caring and nurturing of those boys and helps them with the really hard times they go through as middle schoolers."
Haines said that the highlight of his career is "year after year watching my students grow." Haines shared that he will miss "the interaction with the kids" during his retirement.
Haines is definitely a beloved figure here at Seabury Hall, and he will certainly be missed. When Haines leaves Seabury Hall, he plans to continue working with Keawala'i Congregational Church and enjoying life.
About the Contributor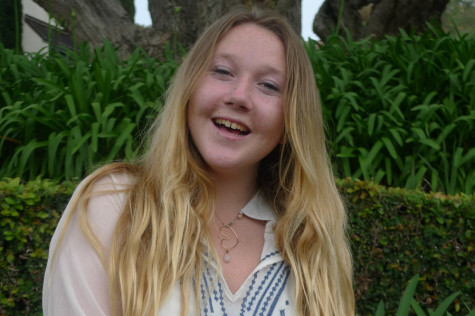 Sage Reardon, Staff Writer
Sage Reardon is freshman at Seabury Hall. This is  her first year at the school. Previously, she attended Kihei Charter School before coming to Seabury...