On our bookshelf: 'Eleanor & Park': Celebrating the differences in all of us
If you are bored and looking for an easy read that will make you uncontrollably emotional for a few hours of reading and then a few more hours after you turn the last page, allow me to make a suggestion: "Eleanor & Park" by Rainbow Rowell. This deceptively light novel will do both those things and much more.
Set in Omaha, Nebraska in 1986, this young adult novel tells of two misfit teenagers who try to defy the odds and live a peaceful life in high school. Sounds like every other young adult novel ever written throughout time, right? Wrong (kind of).
While this book does share some similar qualities to other young adult novels being published today, there is much more to it if you are willing to dig deeper into the story. Because at first look, there really is not anything special about the characters. All of the characters have their own personal issues, but nothing that millions of teenagers in America do not deal with each day.
But looking deeper into the novel, you begin to question normal. The novel looks at two adolescents who go to school every day and function like those around them, but in reality, who they truly are is barely revealed to their peers.
The narrative switches between the two main characters, Eleanor Douglas and Park Sheridan. As we learn more about Eleanor, we learn about her controlling and abusive stepfather who has corrupted the minds of her four younger siblings and terrified her mother into submission. Instead of battling her father, Eleanor has to remain invisible. She also has to deal with the social labels from wearing odd clothes because of her family's financial trouble and her overweight body.
Park grows up in a very different household, with kind and loving parents, who put pressure on him to be more masculine but otherwise accept him for whom he is. Park is also half-Korean in a racist community where being bi-racial makes you a sort of spectacle. He also battles loving Eleanor and wanting to fit in, because Eleanor is not someone you would go out with if you were trying to win a popularity contest because of her weird appearance and personality. Although these troubles are less pressing, they also are valid.
Readers who enjoyed novels like "Looking for Alaska" by John Green would enjoy "Eleanor & Park" if they are willing to read between the lines. While both novels are easy books that you could devour in a day, "Eleanor & Park" deals with more real-life issues than angsty teenagers at a boarding school.
You should consider reading "Eleanor & Park" because it will keep you entertained and help you notice the special qualities in the people around you. It will help you realize that there is more to people beyond what you think you know about them.
About the Contributor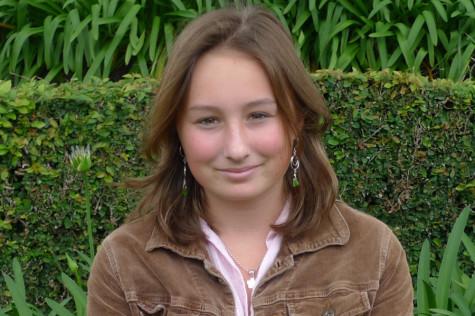 Gillian Hedden, Staff Writer
Gillian Hedden is a freshman at Seabury Hall. She was born in California but was raised on Maui. Hedden is a member of the Seabury Hall dive team, as well...