Seabury Hall's commander and chief plans to retire in 2015
Seabury Hall's leader and morale-booster, headmaster Mr. Joseph Schmidt, has been working at the school for twenty years and has been influential in the great change that has occurred here in that time. His influence will be missed next year when he retires at the end of the 2014-2015 school year.
Schmidt grew up in the small town of Taylorsville in the high Sierras in Northern California. His elementary school years were spent in a school with only two rooms, and he attended high school at Greenville Junior/Senior High School with only 130 students. He spent his time hiking and playing in the mountains around him.
Schmidt said, "I was surrounded by mountains that are about 10,000 feet. So in the winter time I would be hiking in the woods with all kinds of snow, building forts and all things like that. And it was the same thing in the summertime, hiking through the woods and seeing the deer and the bears and the bobcats and the mountain lions. Just growing up in in a wilderness area was probably my fondest memories."
Schmidt played football and was the student body president for a year at Greenville. He later went on to join the military. "As a person, it affected me tremendously because I lived in a very sheltered area so what it did was it allowed me to see the world which I would have probably never done. It also opened my eyes to the possibility to going to college because I probably would not have gone to college if I wouldn't have been in the military. When I was in the military I received the GI bill, so when I left the military I had my college paid for by the military," said Schmidt.
He attended Cal State University Chico and later taught at Chico and taught at other private schools until he came to Seabury Hall in 1995. For the first four years, he was the upper school head until he took over as headmaster in 1999.
"The best piece of advice I have ever received was from one of my dear friends and my mentor, his name was Dr. Herbert B. Barks, and I worked for him in two other schools. And his advice was 'Never forget the school is not about you. The school is about what you can do to make it better,'" said Schmidt.
Jacqueline Peterka, the middle school head, said that her first impression of Schmidt was, "Wow, what an incredible headmaster who knows so much about education." This is a very important part of the personality of any headmaster, and Mr. Schmidt is no exception.
"He has a very good knowledge of how independent schools work. He has very good insight to what makes schools tick, how to make them run better, how to work with faculty, parents, students, alumni and any other constituents of a school," said Jon Toda, Seabury Hall's technology director.
As for what he has done for Seabury Hall, Schmidt is proudest of of the security of the school in terms of its prestige, finances, and enrollment. The school has also opened its doors to the entirety of the island by increasing the funds for financial aid, which allows a good majority of our student to attend Seabury Hall.
Schmidt is also proud of the role he has played in creating such a beautiful school. "My passion is to give kids the opportunity to be at this school, and the quality of the young people  that come to school is what makes this school a great community. If you don't have good kids, you don't have a good community," said Schmidt.
Scott Winham, the head of Seabury Hall's upper school who has worked with Schmidt for 14 years, said, "He truly cares about each individual student," which is a character trait Schmidt is obviously proud of: compassion for his students.
As the school celebrates its 50th anniversary, students and teachers have been seeing many photographs of Seabury Hall through the years, and have marveled at the drastic changes that have taken place over the past 20 years.
Every student and faculty member who has come through this school has been changed by it. In Schmidt's experience, he believes he has "become much more philosophical, less pushy to get things done. I've become a better listener, a better collaborator. I've become more open to others ideas where there was a time early in my career when I believed I had all the answers. I believe the answers come from a lot of people. I think I've just become more tolerant and more accepting of others."
Kathy Middleton, the upper school U.S. history teacher, who has been working with Schmidt for 19 years said, "He's respectful of listening to other ideas, but he's decisive. He's got a vision and a plan."
Mr. Schmidt is on stage smiling and sharing his positivity with us during our morning assemblies, so what is it that makes him positive? "Because I've seen the opposite. I grew up in the opposite, I grew up in a very difficult family and childhood and I knew when I was in high school that when I left that difficult background that I grew up in that I was never going to live a life like that. That I was never going to operate on the negative, that I was going to have a life that was rich and had meaning," said Schmidt.
Sadly, next year we will no longer see Mr. Schmidt around campus because he will be retiring at the age 64 ."I want to make sure that when I retire I am young enough to enjoy life," he shared.
This does not mean that he will not be working, Schmidt will be working in consulting jobs for schools around the country. Although he will be moving to the High Sierras next year, he promises to visit Maui and share his positivity around campus.
About the Contributor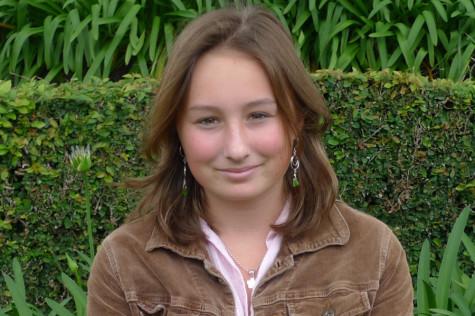 Gillian Hedden, Staff Writer
Gillian Hedden is a freshman at Seabury Hall. She was born in California but was raised on Maui. Hedden is a member of the Seabury Hall dive team, as well...