Kathy Czar is Seabury Hall's den mother
With her enthusiasm for history and geography, Kathy Czar is one of the few people on campus who can recall the first years of Seabury Hall. She shares her knowledge of the past with her sixth and seventh grade students in her history and geography classes. Whether or not they were taught by her in middle school, everyone at Seabury Hall seems to know Mrs. Czar.
Czar, born on Long Island, New York in a military hospital, graduated from Seabury Hall in 1969 as a member of the third graduating class. She has taught geography to the sixth graders and history to the seventh graders for the past 30 years.
"I grew up all over the Pacific because my father was a naval officer in Island Administration," she said. "My first memories go back to Micronesia with Saipan in the Mariana Island and then onto the Philippines, then here to Hawaii where [my family] lived in Pearl Harbor."
Over the past 45 years, Czar has watched Seabury Hall grow and change from a "little school on the top of the hill [that] people often referred to as the nunnery on the hill," into the 21st century advanced school it is today.
"[There's] this sense of being a small family, a small community, where we are really interested in each other's well being beyond the classroom," Czar said. "The individual's worth is really valued here at Seabury Hall, and I believe that that's true from the beginning in 1964 through till today."
Czar attended Seabury Hall when it was just a girls boarding school. She graduated with only eleven others in her class, which she says they often referred to themselves as the "Dirty Dozen."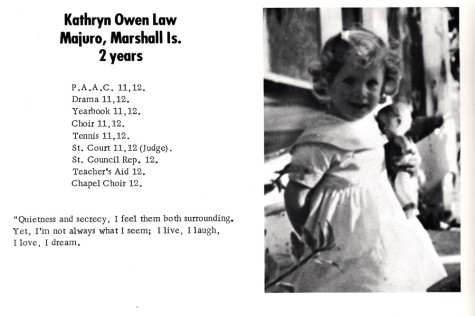 "I have a lot of fond memories of [being with] the girls in the dorm, which was where Carter Hall is now," Czar reminisced. "We had such fun times. We had a lot of fun just being in the rooms, telling scary stories, watching movies in Snooker's room on weekends…"
Czar began attending Seabury Hall in 1967 as a border and graduated in 1969. She then went off to college at University of the Pacific in California.
Charlotte Melrose, the wife of the first headmaster, Roger Melrose, served as a guidance counselor and taught sports. "She was our mother while we were here as boarders," Czar said. "[She] guided and supported us [as] young ladies and teenagers."
Before she returned to Seabury Hall to begin teaching, Czar worked at a travel agency. "I felt like I needed to do something more with my life," she said. Melrose worked at the same agency to help plan Winterim and other educational programs. She encouraged Czar to apply for a one-year sabbatical in the history department. "That one year became another year, and ultimately 30 years," she said.
Today, Czar teaches geography to the sixth graders and history to the seventh graders. Czar has an famous enthusiasm for both of her subjects.
Mrs. Gayle Martelles, the sixth-grade English teacher, has worked with Czar for 25 years. "She really believes in connection, and that's why she's such a great teacher," she said. "She teaches us how to connect with ourselves, with each other, and how to care about the world."
"We really need to know what's out there in the world other than our small little piece of America," Czar said. "I just have a strong sense of the past and its importance in our lives today. I really instill in my students that studying the past is relevant and valued and important because it can carry us forward in amazing ways."
"I feel as though I've planted a little seed in my own small way," Czar shared.
As we celebrate Seabury Hall's history over the past 50 years, we must remember the people that helped it on its way to become what it is today. Thank you for the past 30 years, Mrs. Czar, for keeping history alive here at Seabury Hall.
About the Contributor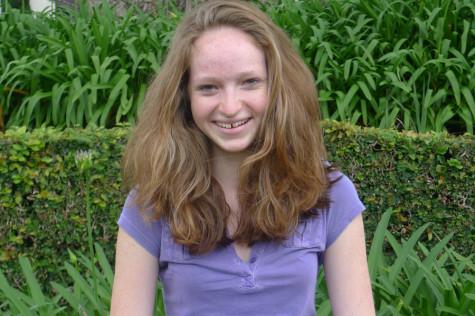 Eliza Wright, Staff Writer
Eliza Wright is a freshman at Seabury Hall. She also attended middle school at Seabury Hall, so this is her fourth year at the school. Wright has been...