For the girls tennis co-team captains, it is all about sharing
This year, Seabury Hall's girl's tennis team has no seniors, so Anna Ezzy, a junior, and Lauralei Singsank, a sophomore, lead the pack together. The coach, Paul Albares, asked both players if they wanted to lead, and since they both were not seniors, he thought it would be better to have two co-captains lead the developing tennis team.
Albares said, "Generally, we are a fairly young team. Most of our players are freshmen and sophomores."
Ezzy and Singsank are the people in charge of the girls tennis team, and they definitely deserve it. They are both great and experienced tennis players, so they have an idea of how to lead the team in games, drills, and practices.
Ezzy has only been playing tennis since the ninth grade at Seabury Hall, but she has great leadership skills that help with her endeavors. Singsank has been in the sport for about six years, starting when she was in the fifth grade. Her grandfather, mother, and other members of her family play tennis, so she has grown up surrounded by tennis rackets and balls. As a sophomore, this experience helps Singsank to gain respect from her teammates.
Singsank said, "[Being co-team captain] is good because I am a sophomore, so I'm pretty glad that I didn't have to shoulder all of the responsibilities on my own. My co-captain Anna is a junior, so she has one more year of experience on the team than I have. It's a good combination."
Coach Albares said, "They try to be supportive and they try to encourage other players. They try to encourage other players to be prepared and responsible. Sometimes they give advice to other players, and they're generally very good examples of sportsmanship."
A leader is a person who others can rely on for help or advice, and Ezzy is just that. As Albares said, "Anna is reliable." He knows that he can count on her to tell the girls his information quickly and accurately while motivating the team as well.
Ezzy is a very positive person and as a teammate her happiness makes the team feel happy, making playing tennis all the merrier. She never tells her teammates what they did wrong but what they did right.
Paulina Tremble, a junior, said, "I'm pretty sure she complimented me on every single shot, along with anyone else that hit a good shot. Sometimes, she would randomly hug me after we won a game or something. She's always just so happy, which makes everyone else around her happy too. I don't think I have ever seen her in a bad mood."
Albares describes Singsank as "strong" for her ability to speak up and work hard. She is a great example for players to look up to. With this skill, Singsank can motivate the team with her determination for success.
Tremble elaborated on Singsank's strength, sharing, "I came to practice more than a few times in not a very good mood, but Lauralei would always listen to all my issues and somehow managed to make me feel better."
Tremble said, "Anna is a compliment-giver, while Lauralei pushes us to work harder."
Team captains are selected based on qualities that will benefit the team in the best way possible.
Coach Albares described the requirements, "Normally, the people who are captains on our team if their leadership skills surface, it becomes apparent that people listen to them, and they're reliable, so these two girls were very responsible. They came to practice every day."
To be able to tell people what to do, you have to do it yourself. If a teacher did not come to class then, students will follow and not attend class as well. Being committed and doing all the games, practices, and even drills gives Ezzy and Singsank the ability to lead their team with no questions asked. They know what is best and the team knows it. If they are doing a specific task, then the whole team needs to do that task.
What do co-team captains do? First, Ezzy and Singsank are the people in charge of letting the whole team know about practice cancellations by a method called the phone-tree. Ezzy describes the phone-tree, "I am in charge of the phone tree so if coach Paul has something to say to the team he tells me then I tell the entire girls team."
Second, they are expected to give advice and act responsible for other players to inspire them to work harder. They need to be able to organize the players and gather the team to feel unified as a family, working together to success.
Singsank said, "We get [the team] together and make sure that you operate as a team and that everything runs kind of smoothly. Try to keep people in line a little bit."
Having reliability and strength are exactly what a team captain needs, and without both Ezzy and Singsank, the team leadership would not be the same. They balance each other out rather flawlessly and their teammates know it.
Co-team captains enable the tennis girls to reach for higher goals because they get to be inspired by two effective leaders who put their hearts into the game.
Ezzy said, "It is worth anything that makes it difficult because it is fun."
About the Contributor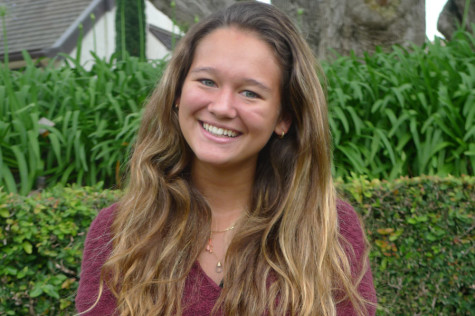 Ava Shipman, Staff Writer
Ava Shipman is a freshman at Seabury Hall. She has been attending the school since the sixth grade, and she has enjoyed what it has to offer her. Her favorite...