Art with Heart's amazing artists and performers stole the show
Art with Heart's spring show opened at the `A`ali`ikūhonua Creative Arts Center here at Seabury Hall on Saturday, April 9. Student visual artists and performing artists shared their talents with community to raise money for upcountry Maui public elementary school art programs.
Many people were involved with the Art with Heart show. There were 19 performances, and 16 gallery artists. There were also many people involved backstage. Everyone's hard work paid off, resulting in a successful show with an audience of 300 people. The show also raised about $4,500 dollars, which will be donated to the schools.
The evening consisted of amazing food, lively conversations, unique art, and smiling faces. During the gallery, Seabury Hall English teacher Alan Hodara played guitar and sang a medley of songs outside the CAC. The evening's show featured many talented students, such as singers, dancers and musicians. Patrons left evening raving about the performances and singing about spaghetti thanks to one of the acts, Sabrina and the Hot Spaghetti.
The three leaders of Art with Heart this year are junior Halia Haynes, and seniors Celina Bekins and Carter Umetsu. All three leaders also performed in the show.
Carter Umetsu a senior here at Seabury Hall spoke of the joys and wonders of the Art with Heart show, which was directed and organized by students. He explained, "People are doing something they enjoy for a good cause. When people are motivated in such a way, they tend to be more inspired to their best."
Art with heart is a great way to do something great for the community while doing something you love. "It great to see how so much can be accomplished by three individuals." Umetsu said.
Haynes shared she was excited to see "The gallery filled with people, to people being engaged and talking, and eating the amazing food and seeing everyone have a good time."
She also shared that the Art with Heart show "Brings people together."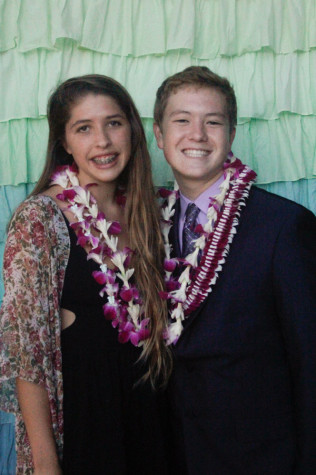 Bekins expressed, "Getting to donate to the upcountry schools, because we do generate a lot of money with this show.The talent is incredible, and I love to showcase everybody and being able to help out the island."
Bekins also expressed that "art educations does not have enough of impact in most public schools and the goal with Art with Heart originally was to foster the arts education throughout maui. We have not done much of funding the art programs in the past year or so, so we decided funding the schools was a good idea and were really excited for it to go to use."