Review: Reading between the lines of 'The Book Thief'
Imagine the setting is World War II Germany. Your mom has been taken away, and your brother has died. You are taken to a house and given new parents. You are teased because you cannot read, and you are hiding a Jewish person in the basement of your house. This is the scenario for Liesel Meminger, a young German girl and the protagonist of the recent movie "The Book Thief."
The movie "The Book Thief"  is directed by Brian Percival and based off the novel of the same name written by Markus Zusak. The characters are Liesel Meminger (Sophie Nélisse), Hans Hubermann (Geoffrey Rush) who is Liesel's kind foster father, Rosa Hubermann (Emily Watson) who is Liesel's kind yet angry foster mother, Max Vandenburg (Ben Schnetzer) who is a Jewish refugee staying with Liesel's foster family, and Rudy Steiner (Nico Liersch) who is Liesel's best friend. The story is narrated by Rolly Allam who is an actor on "Game of Thrones."
The movie is, despite being in World War II Germany, very enjoyable. There are a number of humorous events that, unlike most movies that attempt to be funny and are about World War II, are not forced in or ruin the mood. A great source of humor is Rosa Hubermann and her husband Hans Hubermann making side comments toward each other.
Seeing events like hiding Jewish people and normal life in World War II from the perspective of a young child definitely helps distinguish this movie from others.
Seeing the innocence of Liesel's classmates being manipulated by the Nazis reflects the values and the desire for power of the Nazi regime. The schools are full of Nazi propaganda showing just how much power the Nazis had over Germany's people and how they blindly accept it.
Lisel's struggle learning to read reflects how the Nazis' become obsessed with control. In the start of the movie, Liesel cannot read and is bullied for it by the other children, but through help of her foster father learns to read. Most of the books are destroyed by Nazis, causing Liesel to steal books. The books that Lisel steals are classics like "The Invisible Man" by H.G. Wells which the Nazis ban.
From the perspective of a child who has lost her mother to the Nazis, she bonds with others with similar issues. Both of Liesel's best friends actually suffer from losing parents. Rudy Steiner has his father taken away to fight for the Nazis, and Max Vandenburg has his mother killed. Liesel bonds with her friends over the sadness of losing a family member.
The acting in the movie is very believable. I cannot remember a scene where I thought the acting looked forced, except when the characters themselves were trying to hide Max Vandenburg from a Nazi checking their house, in which case the actors did a suburb job acting like they were bad actors at acting calm.
"The Book Thief" is definitely a movie to watch. It has great acting, a well-constructed storyline, and memorable moments. It gives a fresh perspective on World War II-based movies, of which there are many. Book lovers will not be disappointed as the movie stays true to the book. There are many moments that will stay with you after you finish the film.
Our Grade: B
"The Book Thief"
Rated: PG-13
Length: 131 minutes
Genre: War, Drama
Directed by: Brian Percival
Starring: Sophie Nélisse, Emily Watson, Geoffrey Rush
About the Contributor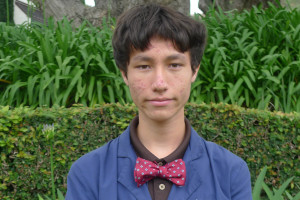 Aaron Rohozinski, Staff Writer
Freshman Aaron Rohozinski is the only male student journalist on "The Seabury Tides" staff. Rohozinski has Seabury Hall since the sixth grade, and he is...