Seabury Hall embraced Nick Vujicic with love and aloha
The Seabury Hall community gathered in the `A`ali`ikūhonua Creative Arts Center on Friday, April 4 to listen to Nick Vujicic give one of his famous motivational speeches. Vujicic was visiting Maui, giving speeches in schools all over the island.
In his speech, Vujicic talked about his life and how he overcame obstacles thrown at him. He also talked about the effects bullying had on him when he was a child and how self worth is an extremely important thing. The audience was inspired and motivated to be better people and do better things at the end of his talk.
"It's a humbling experience to be able to look at someone in the eyes after you get offstage and you see that they see now the glimmer of hope in their life," said Vujicic.
Seabury Hall welcomed Vujicic with an audience of the 400 students and 50 faculty members and parents. The students and faculty heard Vujicic talk about self worth, bullying and suicide, motivation, and not giving up.
"I think his point about self worth is crucial because students who are of the age of Seabury Hall students are questioning their own self worth," said Upper School Head Scott Winham.
Seventh grader Evan Elsasser said, "I think it's important for every teenager to hear that they're beautiful and that they don't have to change just for other people."
Middle School Head Jacqueline Peterka said, "Even if bullying isn't a huge problem in our school, we need to be aware that it's out there. It's also an opportunity for the students to look inside themselves and realize their potential role in being bullied or being the bully."
In regards to self-worth and bullying, Vujicic also talked about our future, and how giving up now means not having a future. He said in his speech, "Your life is so much better than what you can see right now."
As he talked about bullying, Vujicic had everyone close their eyes and raise their hands. He then proceeded to ask four questions, in which the students would ball their fist if they answered yes, or keep it open if the answer is no. He asked if you have thought about suicide, if they had attempted to commit suicide, if they had attempted to commit suicide because of situations and home, if they had attempted to commit suicide because of situations at Seabury.
When everyone put their hands down and opened their eyes, Vujicic told the audience the number of people that had thought about and tried to commit suicide. It put things in perspective for students about how they may be bullying even if they do not realize it.
"It shined a big light on how bullying can affect everyone and who people need to be careful about what they say," said sophomore Shayla Hoeft.
"That made me realize that I need to be more careful about what I say to people because it can have a bigger effect than I think," said Elsasser.
While Vujicic made many positive points, some people disagreed with parts of his speech. "[The point he made that] he hopes bullies' six-year-old daughter gets bullied [seemed] to be contradictory to the rest of his message of being loving everyone and being forgiving," said Winham.
Vujicic advised today's youth to "know that the truth of your value is not determined by what other people think of you, or how you look, or what you can or cannot do, or what you're gonna be as much as who you are. Your value is not any less than anyone else's."
To say Vujicic's life is extraordinary is an understatement. He was born in Melbourne, Australia without any limbs. Struggling with depression throughout his childhood, Vujicic overcame the obstacles through his faith in God and his friends and family.
His famous inspirational speeches began at the age of 19. Since then, he has travelled all over the world speaking to all groups of people. During that time, Vujicic moved from Australia to California, where he founded and became president of the international nonprofit Life Without Limbs.
About the Contributor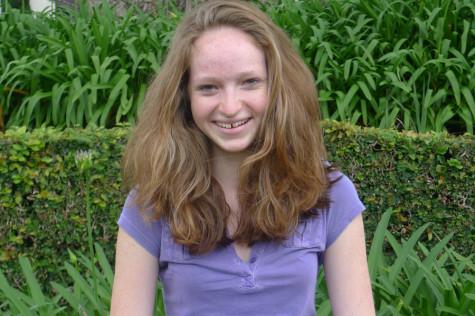 Eliza Wright, Staff Writer
Eliza Wright is a freshman at Seabury Hall. She also attended middle school at Seabury Hall, so this is her fourth year at the school. Wright has been...