Seabury Hall sixth graders take the stage in 'Winnie the Pooh'
Seeing Winnie the Pooh, the famous silly yellow bear who has an eye for honey and can never quite get enough, immediately takes people  back to their childhoods, reminding them of the silly, spontaneous adventures they played along with Pooh and his gang. Director Marsha Kelly, along with her talented cast, will bring these adventures to life in Seabury Hall's sixth-grade play, which opens this Friday in the `A`ali`ikuhonua Creative Arts Center.
The play takes the audience back to a more innocent time."It's about friendship and it does not matter if you're super smart or not. Everybody has something to offer," said Kelly
When asked about her reasons for the choosing the play, she stated,"We don't do musicals in the middle school, and I thought it would be fun because it is Mr. Haines', the musical director, last year here, so I wanted to do two musicals this year. I also never do children's material and thought it would be fun and hope the innocent stuff would attract an audience of  four and five-year-olds with their families."
Eleven-year-old David Judge plays the main part as Winnie the Pooh. Judge has been a part of one play in the past at MAPA. During the whole experience of the play, Judge has enjoyed "memorizing lines and when failing to remember a line laughing at myself and making a joke out of it."
Sweet pigtailed Alani Clinton will play the part of Piglet, who is a hilarious drama queen. Clinton shared, "I'm looking forward to the laughter, the drama I do, because I like being dramatic."
Ms. Kelly and the cast are ready to take the stage and hopefully break a leg. Seabury Hall should come out to see the play, Kelly shared, "to support the sixth grade." She continued, "They are the lowest on the social structure, so it's a big confidence booster for them. Plus, it's free and a whole lot of fun."
The play will be opening at `A`ali`ikuhonua Creative Arts Center here at Seabury Hall on Friday, April 11  and Saturday, April 12, 2014 at 7:00 PM, and a Saturday matinee on April 12, 2014 at 3:00 PM.
About the Contributor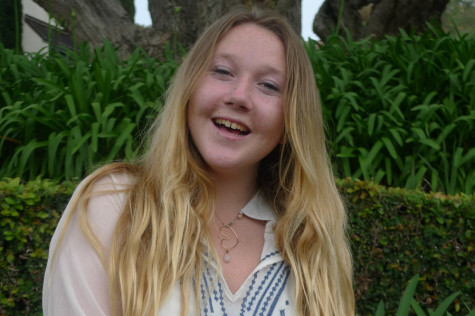 Sage Reardon, Staff Writer
Sage Reardon is freshman at Seabury Hall. This is  her first year at the school. Previously, she attended Kihei Charter School before coming to Seabury...