Seabury Hall's girls golf team prepares for a season of improvement
The sharp crack of golf balls flying through the air fills the air at the Dunes golf course as the Seabury Hall girls golf team practices at the beginning of their spring season. This year, the girls team has four juniors and two sophomores.
The girls golf team started competing in the Maui Interscholastic League (MIL) last year. The team has yet to win, but all of the players are determined to continue improving."We aren't winning, but we're getting better," said Coach Dodd Hessey on this season's girls team.
Hessey is the coach of the girls golf team at Seabury Hall. He is a PGA member who started coaching at Seabury Hall in 1999. At the time, he coached a girls and boys team. Seabury Hall had not had a girls team until he coached a team for girls and boys as a PE option. Last year, Seabury Hall had its first team in the MIL.
The girls golf team was founded by then freshman Natasha Salamack three years ago. Salamack, now a junior, said, "Seabury hadn't really had an official girls golf team, so I had practiced with Dodd since middle school and basically I was saying that I want to be able to play golf in school, and he said, 'You have to be able to get at least five girls to play.' And then we had Jimmsie, who already was planning to play, so I tried recruiting girls. Half of them worked out, half kind of quit in the middle, but that's how it started."
Golf, like many other sports, helps players meet from all over the island. "You actually meet important people, and it's a very personal game, so you get to know the girls you are playing with.  I feel like I've met so many people on the island that are in this community," said Salamack. King Kekaulike, Baldwin, Lahainaluna, and Maui High are the other four schools that have teams and compete against Seabury Hall throughout the MIL season.
Golf is a sport that takes patience and dedication to play and do well in. Unlike more fast-paced sports, golf is all internal. The question is not whether or not they can beat someone else when pinned against each other, but whether or not each player's individual score is better than their competitors.
Morals are very important within the girls and their coach. Competitive players are an essential part of any team, but there are more important traits than wanting to win. Players need to be willing to put forth an effort to make themselves better golfers and better competitors. Hessey evaluates prospective players, by asking, "Are they coachable? Do they want to get better? Do they want to show up and try at practice? Those are the things. Those are not skills, those are character traits."
Junior Jessica Brown said her goals this season are "to get at least one stroke better every day, get pars consistently, and win a match as a team."
Jimmsie Stisher, another junior, said her goals were to "hopefully shoot under 50 and to win an MIL match."
"Everything needs improvement. You can always get better at putting. You can always get better at chipping, pitching, hitting the ball, aiming, everything. Everything always need improvement. Golf never stops," said Hessey.
Golf is a meticulous sport that can improve your mind and your motor skills. The girls golf team needs more players, so, ladies, you should consider it for your sports option.
About the Contributor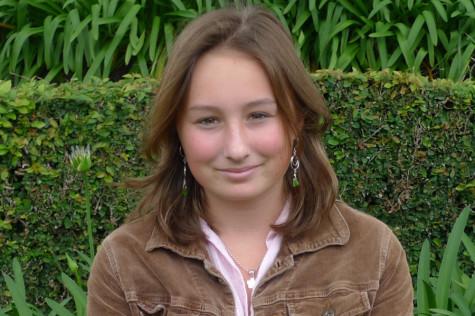 Gillian Hedden, Staff Writer
Gillian Hedden is a freshman at Seabury Hall. She was born in California but was raised on Maui. Hedden is a member of the Seabury Hall dive team, as well...