Seabury Hall's girls softball team hopes to make it to states
After breaking even with four wins and four losses last year, Seabury Hall's softball team is itching to make its way to states. The team feels that it has a good chance of making it to states since last year's league winner had a win-loss record of five and three.
"Every year, we've gotten one win better than the previous [year]," said Andrew Burger, Seabury Hall's softball coach. Following this logic, the girls team is improving their records and hopes to win at least five games this season, which will hopefully qualify them for states.
Seabury Hall's girls softball team was created in the spring of 2008. Today, the team consists of 17 devoted athletes, and it competes in Maui Interscholastic League's Division II softball league.
The sport of softball is an altered version of baseball, played on a smaller field using a smaller ball. The game involves each person batting a ball out onto the softball field and running bases before the ball catches up to them and is thrown to the base. It involves the skills of hitting a ball with a bat, catching, and throwing. While these skills might sound pretty simple, the game is actually very challenging and dynamic.
Softball requires a lot of training. The girls have certain qualities that make Seabury Hall's team so great. Burger expects three main things of his girls, "Number one is I want a commitment. You know, I want them there every day. Commitment shows that you're prepared and willing to be a part of the team. I want disciplined players, meaning that they're going to do what the coach asks them. I want them to be coachable, meaning they're going to listen to their coaches."
While great, Seabury's softball team would not be the same without the great coaching of Burger. He is definitely qualified, having lots of childhood experience. Burger stated, "When I was in about fourth grade our community got involved with traveling baseball leagues, and I wanted to play, so I tried out and for the next 10 summers I was involved in traveling baseball."
When the team was founded in 2008, Burger was assistant coach, and became head coach the following year. He decided to become a coach because of his experiences with coaches in the past. "When I was in high school, I had a very influential football coach. He was able to push me and motivate me in ways I never knew possible. It was through that experience that I decided that I want to be a coach," he recalled fondly.
The coach helps the team operate efficiently but without the leadership of the senior captains, Christie Kimura, Cassidy Ross, Rui-Li Inge, and Rachel Lopez. In regards to what they bring to the team, Lopez responded, "As a senior, I think I bring experience and leadership to a veteran [and yet] very young team." While Kimura said, "I think I can lead the team very well. The other captains and I — since it's still a new team and a lot of people don't know what the rules are — we have a big role in teaching the other players how to play. I think thats a big part of it."
Part of what makes the school's team so efficient is the tight relationship of the girls. "When spring rolls around, everybody has kind of been part of a team and has known eachother for the last five months [from going] around school. As far as team building mechanics and getting them all together, it's not very difficult because everybody knows each other," says Burger.
There is no ill will among the team, and the players all think fondly of each other. "My teammates are really awesome. They are all encouraging, funny, and fun to be around," said freshman Milena LaMonica. Lopez feels the same. "We all get along very well because we are all so weird," she said.
The girls also have a great relationship with their coach. On Burger, Kimura said, "I like how [Burger] forms a really great relationship with his players and all the coaches too." The softball team agrees that Coach Burger runs a good program and cares about his team.
The softball season has just begun, and the team is starting strong. The team meets each week day for a hard practice. LaMonica describes practices, stating, "A regular practice usually starts of with a jog around the field, stretches, and throwing. If it is a batting practice we will split into groups and do various batting drills. The other days we will work on infield, outfield, baserunning, and anything else we need to work on." Practices are intensive but evidently helpful, as can be seen by how fit the team is.
The future of Seabury Hall's softball team looks bright; this year the team gained lots of strong and coachable freshman. Burger compliments the freshman, "I say this every year, but the freshman class coming in has done a great job of stepping in and being coachable. They're filling in a lot of the holes and giving us a lot of opportunities to move the pieces around and be a very competitive team."
Not only does the coach think highly of the new team members, so do the experienced players. "We have more experienced [freshmen] than we've had in the past four years, usually when the freshman come out they haven't played. This year, a lot of them are athletic, they're not afraid of the ball," said Kimura.
Girls softball is different than the other sports Seabury Hall competes in due to the level playing field and unpredictable games. Burger stated, "Besides girls volleyball, [softball] is the only sport that has all five Division II schools. It's probably the most competitive: all five schools can beat each other at any given time. Last year, we were four and four. The winner in the league was five and three." Games are exciting because anything could happen and anyone could walk away a winner.
This makes a fun game to not only play in, but also to watch. If you come out to see a game, be ready for a wild ride. "What's going to blow you away is how much the kids are cheering. Softball's really a fun game because when you're not out on the field, the dugouts are all cheering. It's a fast-paced game, not quite like baseball, which is [more slow-paced]. Softball is on a smaller field, there's not as much space," Burger shared, "You're gonna see a lot of girls who are gonna hustle and play hard."
Games are free, so definitely make time to go watch. Burger said that fans should come because "We're gonna be competitive this year. Another reason to come out is to support those girls, support your school."
Seabury Hall has a great softball team with an outstanding team and coach, so be sure to go watch this team's exciting season.
About the Contributor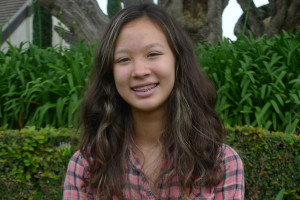 Faith Berry, Staff Writer
Faith Berry is a freshman at Seabury Hall. She has attended Seabury since sixth grade, making this her fourth year at the school. Her favorite subjects...