Boys baseball: "We will be champions more ways than one"
It is official. The 2014 baseball season has started, and the Seabury Hall baseball team is ready for anything that comes its way. So far, 19 hard-working boys have joined this family of a team.
John Plunkett, Seabury Hall's baseball coach, has been enjoying the sport every step of the way. As he said lovingly of his team, "They're my children, and that is all I can say. I treat them as my children. So, yes, we love each other, and that is our goal. If we love each other, we trust each other, we will have a great season, and that's why I think this season will be great, because we are already starting that way."
Senior Jonathan Kaopuiki explained the closeness of the team stating, "There is just a really good connection between all of us, like we understand each other and it's easy to play with each other." This special bond among the team members helps them improve and have fun while doing what they love.
They work very hard at practice when they practice drills, hitting, catching, and running. There are many skills and learning that goes into baseball, like running bases and bunting the ball five different ways. The game is more complicated than it looks.
Plunkett said, "I mean it's a tough game to play that it's like a classroom. If you miss a day of work, then you miss a day of learning. So, if you make it everyday, then you're fine."
Plunkett has three major philosophies in learning baseball, "I'm going to say in offense. They have to be able to learn how to run the bases. Base running is always the first thing we try to teach. Then a second thing will be bunting. There is a small ball what we call small balling in baseball. The third thing will be hitting. Now, if everybody can progress through that level they will be fine," Plunkett explained.
Learning these skills takes time. But Plunkett believes that if the players are committed and take the time to listen, then they will be set for the sport.
Skills and talent make the game of baseball, but there is more than throwing, catching, and hitting."You have to play as a team. You have to have good feet, good hands," sophomore Cody Wendt said.
Junior Robert Prouty described the practices that the players have, stating, "We practice Monday through Friday, starting at 4:00. Tuesdays and Thursdays we go down to the baseball diamond at Eddie Tam. Those practices usually run a half hour longer than the ones at Seabury, and we end at 6:00-6:30 most days. At the beginning of practice, we get our arms loose by throwing to each other. The team then splits into two groups, infield and outfield. We then do fielding drills in these groups, and then we have batting practice. We wrap up practice with base running."
"Skills that are valued highly are being a good team player, team leader, and an-all around understanding athlete," senior Mogul Luuwai explained.
As a player, practices can finish later, and it gets challenging to perform as a student. "It's hard to do homework and the practices are really hard, but it's a lot of fun. It's definitely worth it to play," Kaopuiki said.
Even though training is long and time-consuming, it is not so bad when the players are connected and like to spend time with each other. Their bond influences them to practice harder but also have fun while working. It makes the time fl, and before they know it, practice is over.
The family connection that the team have created is the best part of the team as it is repeated over and over again by the players and coach. Destin Altman, a freshman player, stated about his team members, "I enjoy them because they are very supportive and not cocky well some of them aren't that cocky." As a new player, Altman already feels part of the team and that he is a part of something.
Competing at states is a goal that every coach tries to reach for, but for Plunkett winning isn't everything. While the team does think about states and doing very well, there are other things on the team's mind.
Coach Plunkett said about their goals, "Definitely state championships and MIL championships are always something we head for, but what we work at is not what is at the end we work on what is the journey to get to the end. It doesn't matter though. We might not go to the champions, but the ride or journey to that. My goal has always been for each individual to become champions. Yes, we will be champions more ways than one. Yes, we will be champions."
Lu'uwai agreed with his coach's comments about the relationship as a team, stating, "I love my teammates a lot. They are like my family because of all the things we do together and that we are all just a close group of friends that played previous sports together, like football, soccer, basketball, and paddling.  I like the interaction that I have with my peers."
Being a good teammate is a major part of playing any sport. Junior Melvin Catugal commented on what makes a good teammate, "Always have faith in one another and never get mad at a teammate for making a mistake."
This team definitely have each other's back and they have a deep connection that cannot be taken away. They have more goals than just winning such as,  being a team that respects each other, and learns from each other. This is better than winning a game.
"If we love each other, we trust each other, we will have a great season," Plunkett stated.
About the Contributor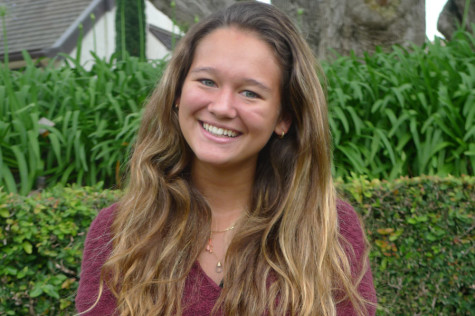 Ava Shipman, Staff Writer
Ava Shipman is a freshman at Seabury Hall. She has been attending the school since the sixth grade, and she has enjoyed what it has to offer her. Her favorite...