Opinion: A cheerleading squad would increase Spartan spirit
Imagine this scene: on the field, Seabury hall's players are going head to head with their rivals from another school. A small crowd of students and parents cheer them on, and the adrenaline rush pushes them forward. But something seems to be missing: a cheer squad. With the power in their voices and the heights of their kicks, a cheer squad might just be able to drive Seabury Hall's players to become champions.
Seabury Hall needs cheerleading to bring spirit to the a community and more enthusiasm to the games. Cheerleading boosts a crowd's spirit and puts the spectators on their feet. When a team is losing, the cheerleaders can cheer the team on and help improve the game.
Cheerleading has become a big part of the communities in most high schools, but Seabury Hall currently does not have a squad. Out of the seven high schools on Maui, five of them have a cheerleading team. Besides Seabury Hall, Kihei Charter School does not have a squad. However, its athletic program is connected to Maui High's athletic program. Therefore, a Kihei Charter student can participate in sports with Maui High, including becoming a Maui High cheerleader. Seabury Hall is the only high school on Maui which does not have a cheerleading team, which is not  right because our school is really into sports.
Athletics are emphasized throughout our school. Every student must be involved in P.E. or a sport. Games and scores are announced during assembly, rallies are held during spirit week for our teams, and banners are hung in the gym celebrating our athletic accomplishments. We take sports seriously, and we support our student athletes. Cheerleading is another way to support our athletic program.
According to Seabury Hall's Headmaster Joseph Schmidt there are three main reasons why we do not have cheerleading. One is cheerleading is primarily seen as girls cheering for boys. Sports should not be just for boys; they should be for girls too.
"Traditionally, cheerleading has been an image for girls spending their time cheering for boys teams, and I believe that that is not appropriate, and I think if anybody should be cheering, it should be everybody cheering for each other. Girls shouldn't just be the supporting of the boys teams. They should be equally important as the boys in the sports world not just as cheerleaders as participants of sports," said Schmidt.
The second reason is the common misconception that cheerleading is based on body image and the way a girl should look, which may affect the self esteem of young girls. "There is sort of a sexist attitude that comes along with the cheerleading. It's all about body image," said Schmidt. He continued, "I think it's unhealthy for girls to be that concerned about their body image and that be the driving force."
Third, athletic girls could contribute their skills to sports. "There are a lot of girls who do cheerleading who could contribute to sports teams and enhance the sports teams rather than just being a cheerleader." he said
Mr.Schmidt's first reason makes sense; however, the cheerleading team could be make up of boys and girls. Cheerleaders do not just have to cheer for boys teams; they can also cheer for Seabury Hall's girls teams.
The second reason is that cheerleading is based off body image, but knowing many of the girls here at Seabury Hall, they would not want to become skinny because they joined a cheerleading team. Cheerleading would not affect the health and appearance of girls here at Seabury Hall. Many girls are comfortable in their skins already, and if they were not, they would change it for themselves, not for a cheerleading team.
Finally, while cheerleading may take some girls from other sports, it would not take all of them. Athletes who are committed to their sport would most like stay and participate in that sport. For example, a student with a passion for softball would stay with softball rather than switching to cheerleading.
Cheerleading is a hard, demanding workout for your body. When constantly moving, dancing, doing flips and jumps, it makes you sweat and keeps your body very fit. It  requires lots of hard work and discipline to do cheerleading since cheerleading is a combination of gymnastics, dance and cheering.
I believe that we should have cheerleaders shouting from the sidelines cheering teams on. The happy shouts and cheers from the sidelines would make our campus crazy with Spartan spirit. Cheerleading is a physically demanding sport that would not only boost school spirit but also will guide are teams to more wins.
With a cheer squad, be ready to hang more MIL and state championship banners in our gym. Go, Spartans!
About the Contributor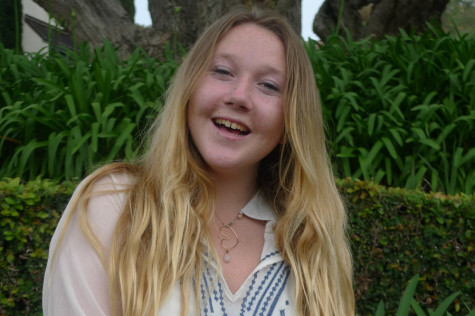 Sage Reardon, Staff Writer
Sage Reardon is freshman at Seabury Hall. This is  her first year at the school. Previously, she attended Kihei Charter School before coming to Seabury...