Seabury Hall's track and field teams look forward to the finish line: The MIL and state championships
"It's fun to achieve new times and keep doing better each time, and you feel really good when you finish a race," said senior Quinn Jones, who has been running since his sophomore year. Jones is a member of the Seabury Hall track and field team, which started its season off with a bang on Friday, Feb. 21, when the team competed against high schools all over Maui at their first track and field meet at War Memorial Stadium.
This year, the girls team has its eye on the state championship title. Also, a few of the runners on both the boys and girls team are looking to break MIL records and make it to states. "Everybody will be making their best effort to improve each week," said coach Bobby Grossman in an email, who has been coaching track for about 10 years.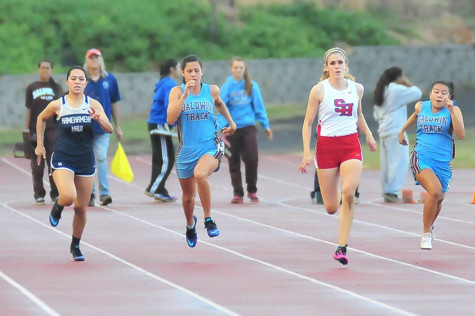 Grossman has high hopes for the teams realizing their goals. "This should be the best boys and girls track team in school history," he said in an email. Last year, the team lost states by only a single point, and Grossman is faithful they will win this year.
There are many up and coming runners on the team this year, including Seabury Tides' staff member Ava Shipman, the top freshman on the team who has been running since sixth grade.
"[Running] makes me feel better and relieves stress," she said. This season, she hopes to make it to states in the 3000. Currently, Shipman is at a high 12 minutes, but to make it to states, she must reach 11 minutes. She also wants to compete in the 1500 and in a relay.
Another rookie runner on the team is senior Cayde Omura. "It pays off in the end once you see your score," he stated. "Even if you don't make it into the top three, it feels gratifying to see you're improving."
In his initial and only season, Omura hopes to just help out the team and maybe qualify for states. "I just hope to do well in my first and last season," he said.
In order to obtain their goals, the team trains hard in every practice, which are five or six days a week. "For long distance, we usually go for a five-mile run and then go to the weight room," said Jones, who enjoys long-distance events.
Shipman, also a long-distance runner, describes a practice as "Easy days, we have warm ups, drills and stretch, then we lift weights for 45 minutes to an hour, then we go for a long run. Hard days are when we sprint, where we do 200's or 10 200's or ten 400's and hills. But we always have warm-ups, drills, and stretching."
Like with any sport, there are challenges that come along with training, like the lack of a track on campus. "[That's] the number one problem," said Grossman in an email. "Preparing for field events, relays and block starts have been very difficult."
Because of the athletes' goals, Coach Grossman is impressed by the their training this season. "The focus and intensity at practice is at high level," he said in an email. "It creates a great energy at whatever we are doing."
Meets can be very nerve-racking for everyone. Depending on what their event is, competitors have different ways of preparing. "Usually, I sing a song in my head as I get myself ready to run," said Jones.
Track and field is a high-energy and boisterous sport to watch. "There is a buzz at the meets this year," said Grossman in an email. "We are loaded with seniors and veterans who want to see their team have a great season."
"[Having people there] motivates me more because people's energy amps up my own, so it makes me perform better," said Shipman. There are track and field meets most Fridays after school and Saturdays during March and April.
After competing in the MIL-Yamamoto Invitationals on March 14 and 15, the runners will continue on to Victorino 'Ohana Invitationals on March 21 and 22, then hopefully onto the MIL championships.
About the Contributor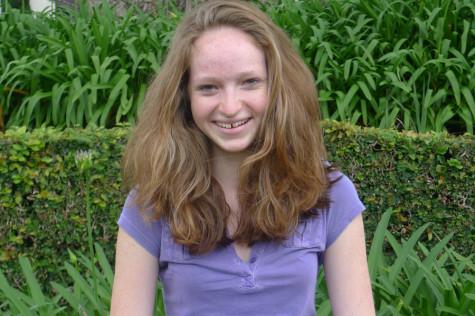 Eliza Wright, Staff Writer
Eliza Wright is a freshman at Seabury Hall. She also attended middle school at Seabury Hall, so this is her fourth year at the school. Wright has been...