Surf's up: Meet some of the members of Seabury Hall's surf team
This year, Seabury Hall will be competing in the Maul Interscholastic League's inaugural surf season with a surf team. Under the leadership of coach Rodney Kilborn, the Seabury Hall surfers, including Dylan Kresge, Isabella Pickering, and Juston Nees, are getting ready excited for the upcoming surf season.
Rodney Kilborn, coach
This year will be Coach Kilborn's first time coaching a high school team. With 14 surfers on the team, he believes whoever comes to practice will succeed the most in the competitions. Kilborn bring years of experience to the team. He used to compete as surfer as young man, and 2014 marks his fiftieth year as a surfer.
Where do you practice?
"Wherever is safe and has good conditions. Here's where we have had our surf session: Spreckelsville, Ho'okipa, and Kahului Harbor."
Is surfing an MIL sport?
"Yes, and this is the first MIL in our state of Hawaii."
How often are the competitions?
"The MIL has three competitions set-up. The first two events are practice competition events with the other schools on Mar. 29 at Lahaina Harbor, and April 5th at D.T. Fleming Beach. The final event is on April 19 at Ho'okipa Beach. Locations are subject to change due to surf conditions."
How does the scoring for surfing work?
"You have a three-judge panel. The lowest score is one and the highest is 10: 1-3 poor ride, 4-5 average ride, 6-9 excellent Ride, 10 is like you got a deep tube ride and came out clean."
Dylan Kresge, freshman
Kresge was not introduced to surfing until the age of eight by his uncle Seray and has been surfing ever since This is Kresge's first year at Seabury Hall.
What's your favorite thing about surfing?
"Being in the water, and it's a lot a fun to be with your friends. Although its sport, it doesn't feel like a sport. It is very relaxed."
What skills do you need to get good at surfing?
"Good strength, being good in the water, and being able to paddle comfortable in the water and knowing your limits. Don't go out when it's too big, or you will just get hurt."
What are most excited for surfing?
"I'm excited for the practices and meeting the guys, and learning how to surf better."
Juston Nees, freshman
Juston Nees is really excited for the surf season. Although surfing was not a big part of his childhood, he has really enjoyed the lifestyle since he started surfing two years ago. Nees credits his friend freshman Andrew Gibbons for his love of surfing. Gibbons encouraged Nees to start surfing.
What do you enjoy most about surfing?
"I like how you can do it by yourself and you don't need a team to do it and you can do it whenever you want. But there is still a team aspect to it, so you can still be a part of the team. It's unique."
What skills are required for surfing?
"You need a lot of patience, because it takes forever to get good at surfing. Well, at least for me, it did. And you need to have a good attitude, because if you get negative you will probably quit surfing because there are a lot of bad days and good days."
What are looking forward to most for the surfing season?
"I'm looking forward to the contest. I think its gonna be a lot of fun to be traveling with friends, like getting in the vans and going to Lahaina sounds super fun."
Isabella Pickering, sophomore
Sixteen-year-old Isabella Pickering always seems to rock out her skills in the water. Pickering has always loved to surf in the past but she really started to get into it at the age of 12. Before a competition, you can find her waxing her 5'7" board, eating healthy foods, and drinking lots of water.
What do you enjoy most about surfing?
"I guess the whole package, the lifestyle, the everything."
What skills are required to get good at surfing or that you value the most?
"Perseverance, being strong-willed, not afraid, or stupid."
Do you plan to stick with surfing in the future, and what are you excited most about surf team?
"Surfing is definitely going be a part of my life, and I'm excited to start surfing with new people and getting more people involved in the surfing community."
About the Contributor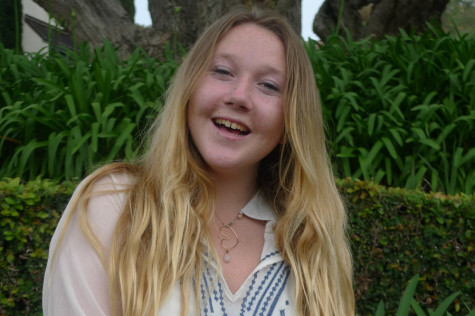 Sage Reardon, Staff Writer
Sage Reardon is freshman at Seabury Hall. This is  her first year at the school. Previously, she attended Kihei Charter School before coming to Seabury...