Jasmine Doan: A student making a difference
Jasmine Doan is a junior at Seabury Hall who gets things done. She can often be found working hard in a math class that is above her grade level, training for the math team which competes all over Maui, or helping the six graders on the middle school math team. Doan's involvement in these activities make her a fantastic leader for the [email protected] event.
This student-run event will be held on Sunday, April 6 at Seabury Hall's A'ali'ikuhonua Creative Arts Center.
Doan is proud of her role in creating this event, stating, "I am the program director, so I manage all the teams and I lead the meetings and make sure that we get everything done on time." Doan is a huge part of the [email protected] and is mainly the leader who is making this event happen.
Seabury Hall sophomore Jacob Alabab-Moser, communication director for the event, described it as, "The first of its kind on island geared to inspire the Maui community, especially its youth."
The theme of this exciting event is "Imagining a Better Tomorrow," which is a great way to influence this generation of students to take action now to make the future a better place.
Seabury Hall librarian Linda Lindsay, a designated adult who is helping organize the event, described the theme, stating, "The event will reflect 'Imagining a Better Tomorrow' in the form of speeches performed by students. It is going to be a day of inspiration, looking toward the future, and a celebration of what is good about teenagers on Maui."
TEDxYouth means that it is an independent TED talk that has speakers and volunteers who are mostly students. "There are a lot of students from Seabury Hall in the upper school and from schools all over Maui. We have students from Iao, Lokelani, Baldwin, Maui High, and King Kekaulike," Doan explained. This is a big production that combines many ideas from the youth of Maui.
Alabab-Moser expressed about working with students as, "Great because we all started with little experience and we get to learn together."
Organizing a student run production takes a lot of time. Doan stated, "I think about [email protected] all the time. When I'm at school, outside of school, when I'm at home. Whenever I have free time, I always jot down my ideas, and whenever I am doing homework, I am thinking about the [email protected], like unconsciously. I just jot down the notes and then usually over the weekend or when I find time to spare I get those tasks done, but I'm really excited for this event."
Since the event is primarily student-run with only the help of a few adult advisors and mentors, planning and organizing can get rough. Alabab-Moser said, "Being entirely student-run can definitely be a burden, but it is rewarding to know that we do all the work and make all the decisions on our own terms." This event is an opportunity for students to gain leadership skills that they can use for their entire life.
Lindsay explained what exactly she does as a designated adult, "Basically I am the mentor for Jasmine. She is definitely the leader. Any time she needs advice I will give it to her."
Doan described how she gets inspiration and help with planning the event, "Well, I have a lot of support from TEDxMaui who is giving me some guidance and TedxHonoluluED which is the TEDxYouth event team on Oahu."
She puts a lot of work and dedication to the TEDx talk and Alabab-Moser described her as "motivated" because she does not stop until it is done. She really puts her heart into everything about it and enjoys every minute of it. She is making history, and she is doing it well.
Doan is an inspiring student. She tries to be the best that she can be by putting her heart into everything that she does. The [email protected] is a production that shows Doan's determination and motivation that most students strive for everyday. She has a lot of responsibility from academics, clubs, and creating an event that is happening in two months that she handles with much grace. With Doan's attitude and persistence the event is bound to the a one in a lifetime experience that people will love and appreciate.
About the Contributor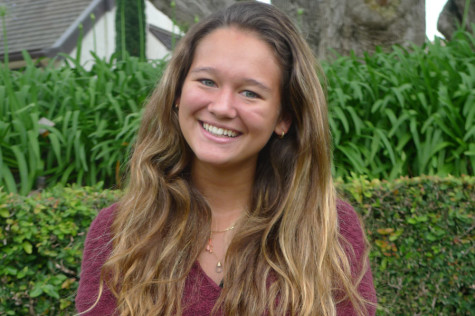 Ava Shipman, Staff Writer
Ava Shipman is a freshman at Seabury Hall. She has been attending the school since the sixth grade, and she has enjoyed what it has to offer her. Her favorite...