Review: 'Saving Mr. Banks' reveals the story behind 'Mary Poppins'
Based on a true story, "Saving Mr.Banks" is a movie by Walt Disney about the making of another famous Disney movie: "Mary Poppins." Walt Disney (Tom Hanks) is a father who will never willingly break a promise to his little girls. His daughters want him to make their beloved "Mary Poppins" books into a movie, and he is determined to make their wishes come true.
After her books have stopped selling, author Mrs. Travers ( Emma Thompson) becomes a peevish, blunt women, who always insists that everyone to call her Mrs. Travers. Mrs. Travers finally makes the decision to see Mr. Disney after 20 years of having him beg her to turn her stories into a movie.
Upon arriving in Los Angeles, Mrs. Travers discovers her hotel room has been filled with fruit baskets and Disney stuffed animals, which she then stuffs it all into the closet. Mrs. Travers has little respect for Walt Disney and seems to find herself thinking that her work is being mocked by Disney. Throughout the movie, Mrs. Travers torments and tortures the screen writers and song producers, who bend over backwards for her and never seem able to please Mrs. Travers.
The film switches between flashbacks of Mrs. Travers' childhood in Australia in the early 1900s and scenes of the making of "Mary Poppins" in Hollywood in the 1960s.
The flashbacks show how Mrs. Travers' childhood provided inspiration for her tales. They show  Mrs. Travers as a little girl named  Helen Goff (Annie Rose Buckley), and her father (Colin Farrell). Helen's father is the type of father every little girl wishes for, but, ironically, he is a drunk, and barely able to hold on to his job, causing severe stress for her mother (Ruth Wilson).
Throughout the movie, Mrs. Travers struggles between her difficult past and the decision to finally let go and have Mary Poppins become famous as she can be.
In this movie, actors Emma Thompson and Colin Farrell stand out the most among the cast. Thompson a witty women who keeps viewers on their feet wondering what she will do next during the whole film. Farrell's transition from a soft, scruffy father to a hardened drunk is astonishing and heartbreaking.
The music in the movie consists of a mix of modern pop music and jazz music throughout the film, which turns out to be a good mix.
"Saving Mr. Banks" is a compelling and unique movie. Watching the movie you find yourself drifting along to the magic of making "Mary Poppins," while learning the story that goes along with it. This movie is interesting, but it can also can be a little boring at times. Lively moments animate the film, such as Mrs. Travers' childhood flashbacks and and her visit to the world famous Disneyland.
Overall, this movie a compelling drama that brings tears to your eyes with relatable actions in life, and a great story line.
Our Grade: B
Director: John Lee Hancock
Running time: 126 minutes
Rated: PG-13
Genres: Family, Comedy, Drama
Starring: Emma Thompson, Tom Hanks,  Paul Giamatti, Jason Schwartzman, Bradley Whitford, Annie Rose Buckley, Ruth Wilson, B. J. Novak, Rachel Griffiths, Colin Farrell
About the Contributor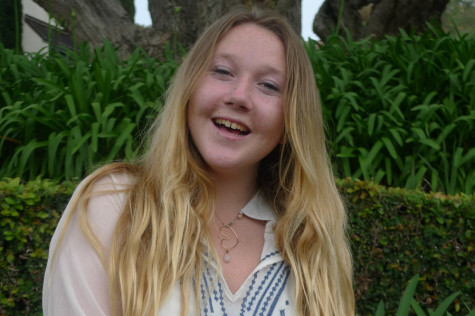 Sage Reardon, Staff Writer
Sage Reardon is freshman at Seabury Hall. This is  her first year at the school. Previously, she attended Kihei Charter School before coming to Seabury...