DVD Review: 1986 vs. 2014: The truth remains
"The Breakfast Club," "Pretty in Pink," "Sixteen Candles," and "Home Alone" are all movies that we have grown up with. Thank you, John Hughes. Hughes either wrote or directed these classics, and among these gems is "Ferris Bueller's Day Off."
The beginning of the movie is very predictable: suburban house, two cars, pretty mother, father in a suit, sick son, and angry sister. It seems as if everyone in Chicago is concerned because Ferris Bueller (Matthew Broderick) is sick. While his performance is undeniably awful yet incredibly comedic, his gullible parents (Cindy Pickett and Lyman Ward) believe him and let him skip school.
Once Ferris is out of bed, the movie really starts. He speaks directly to the camera and the audience, a technique frequently used throughout the movie. Enter Cameron Frye (Alan Ruck), Ferris's best friend of many years, who actually is sick. Ferris convinces him to come over and pick him up, because they are going to have their last big day of skipping high school. They first get Ferris's girlfriend, Sloane (Mia Sara), out of class before they take off into Chicago in the classic Ferrari they sneak out of Cameron's garage. Their day can only be described as epic, visiting many of the famous locations in Chicago and making each landmark even more lively.
What makes this movie unique is not the ever-present comedy, but the various messages it sends to young adults. The characters respectively defying the rules placed by adults and society that are unjust. "I am not going to sit around as the events that affect me unfold to determine the course of my life. I'm going to take a stand. I'm going to defend it. Right or wrong, I'm going to defend it," said Cameron. It is rare that young adults are encouraged to challenge the rules placed by people who are older and "wiser" than us.
The characters in this movie are pretty classic. Ferris is a clever, funny, and quick-witted teenager with little character development. Sloane is beautiful and intelligent but unfortunately we don't hear much from her. Cameron is depressed and oppressed in the beginning of the movie and absolutely petrified at the thought of stealing his dad's car, a car that he believes his father loves more than he loves his son. In the end, Cameron decides to speak to his parents about their relationship (or lack thereof) and finally stand up for himself.
The music in this movie is definitely from the 1980s, but in a good way. The "Twist and Shout" scene is fantastic and has stuck with me since childhood. There are no special effects, because a good story does not need unnecessary effects.
This movie is a classic. It needs to be seen at some point in everyone's lives, but the best time is right now, while you are in high school, dealing with many of the same problems that teenagers still deal with in a movie made in 1986.
Our Grade: B
"Ferris Bueller's Day Off"
Rating: PG-13
Length: 103 minutes
Genres: Comedy, Drama
Director: John Hughes
Starring: Matthew Broderick, Alan Ruck, Mia Sara, Jeffrey Jones
About the Contributor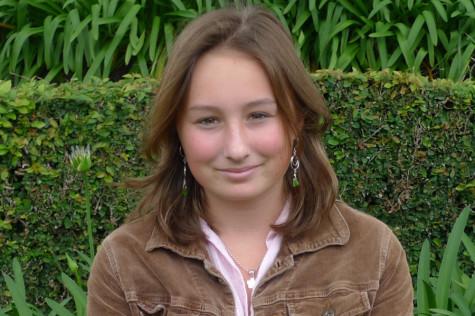 Gillian Hedden, Staff Writer
Gillian Hedden is a freshman at Seabury Hall. She was born in California but was raised on Maui. Hedden is a member of the Seabury Hall dive team, as well...