DVD Review: "Pitch Perfect" lives up to its name
Some people lose interest in movies just because they are considered "chick flicks." "Pitch Perfect" is, in all respects, a standard chick flick. The cast is primarily female, and some might assume that the movie could not carry itself because of its cast. However, "Pitch Perfect" can be enjoyed by people of all ages and genders, proving that these inappropriately labeled movies are not just for "chicks."
"Pitch Perfect," based on the novel "Pitch Perfect: The Quest for Collegiate A Cappella Glory" by Mickey Rapkin, is definitely one of the best movies to come out of the last couple of years. It is full of interesting, relatable characters; hilarious one-liners; and meaningful lessons that influence the viewer long after the movie is over. "Pitch Perfect" will keep you entertained from start to finish.
When Beca Mitchell (Anna Kendrick), arrives at Barden University, she finds herself unhappy and unsatisfied with college life. Rather than making it big in Los Angeles as she had hoped, her father has forced her to study at the university where he works. Beca has a very non-committal approach to college life. Her father is concerned with her disinterest, so he forces her to join a club and start making friends.
Beca's interest in music editing and mashups lands her an internship in the Barden Radio Station. When her father does not approve, she ends up joining an a cappella group: The Barden Bellas. Although Beca can certainly sing, this group of misfits and outcasts with great singing voices is the last place she thought she would end up.
After a huge mess up at last year's national a cappella competition, the Barden Bellas need to work hard to get to nationals again. Beca and the other Bellas might have some ideas to help, but tensions arise between the two Bella seniors, Aubrey Posen (Anna Camp) and Chloe Beale (Brittany Snow), as to the direction of the Bellas. In order to succeed, the members of the Bellas need to come together and use their talents.
Part of what makes Beca so interesting is how real and relatable she is. Her lines are words you might actually hear from any rebellious teenager in college. Beca's transition from a quiet, unreasonable girl with all her defenses up to an honest, outgoing performer is well executed.
Beca's love interest, Jesse Swanson (Skylar Astin), is an incredibly important and interesting character. Unlike many books and movies gone wrong, Jesse does not solely serve the purpose of a love interest, and he has a fully developed past and personality like any other character. He is cheeky, cheery, and an all-around pleasure to watch on screen.
When the drama within the Barden Bellas gets a little heavy, enter comic relief. The other members of the Barden Bellas, particularly "Fat Amy" (Rebel Wilson), made entire audiences burst out laughing. Each Bella has her own charm to give to "Pitch Perfect."
Although many like this movie because it is about singing and is funny, "Pitch Perfect" has more depth to it than that. Beca's experiences in this movie shows that when you come out of your shell and reach out to people, life gets easier and more fun. This lesson can definitely help people struggling in high school or college.
The acting in this movie is superb, and all lines are delivered convincingly. The characters are portrayed in a very real, honest way, and the actors do a great job of showing the unique traits of each Bella.
The real focus of "Pitch Perfect," of course, is the music. The perfectly harmonized a cappella pieces are beautiful. A cappella is not a topic covered in any recent blockbusters, so it is nice to hear something new. The actors and actresses performed beautifully, and the catchy a cappella soundtrack is sure to be stuck in your head for days.
One of the best qualities that this movie has is its uniqueness. A cappella was not a very popular music genre, but in colleges all around the world fans are trying out for a cappella groups. Thousands of a cappella songs were uploaded to Youtube following the movie's premiere, and the catchy "cup song" that Beca sings was constantly being sung all around the nation.
All in all, "Pitch Perfect" is a fantastic movie. The soundtrack is beautiful, the characters are interesting, and the plot is riveting. "Pitch Perfect" is worth the cost of renting or buying and worth your time, and is a perfect movie for any audience.
Our grade: A
Rated: PG-13
Length: 112 minutes
Genre: Comedy, Musical
Director: Jason Moore
Starring: Anna Kendrick, Skylar Astin, Brittany Snow, Anna Camp, Rebel Wilson
About the Contributor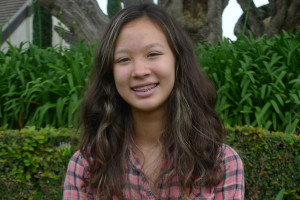 Faith Berry, Staff Writer
Faith Berry is a freshman at Seabury Hall. She has attended Seabury since sixth grade, making this her fourth year at the school. Her favorite subjects...