Mr. Turbeville: The go-to guy on campus
Imagine an incredibly busy person on the Seabury Hall campus who is a basketball coach, the Upper School tech coordinator, a teacher, an advisor, and the Dean of Students. This person in charge is Mr. Louis Turbeville.
Turbeville's importance on campus is best described by Upper School head Mr. Scott Winham, "As the Dean of Students, Mr. Turbeville has two fundamental responsibilities. First is student behavior; this includes attendance for the whole school. His second is Upper School student life: activities, student government, and other things."
Turbeville has worked at Seabury Hall for eight years with the major roles of tech coordinator and Dean of Students. He originally got a job coaching girl's basketball before applying for the opening for a tech coordinator, and eventually, he became the Dean of Students.
On the dean side, he works with Mr. Winham, Ms. Peterka, and the rest of the Seabury Hall administrative team. On the tech side, he works with Ms. Lindsay, Mr. Toda, and Mrs. Hodera who meet every week to talk about tech-related projects on campus.
Mr. Toda explained how Turbeville works with the team: "We work together as the technology staff at Seabury. Mr. Turbeville's responsibilities are to support teachers, students, computers, and labs. Mr. Turbeville is very easy to work with because he always has a positive attitude toward solving problems and getting things done. He does a good job of keeping up with technology needs while taking care of his other responsibilities in the school."
Turbeville was born in a rural part of 'Oahu on the Wainiha side. While growing up on 'Oahu, he played lots of sports with his family. His father was one of the first people to own a personal computer because of his interest in technology. His father also started clubs for track and judo. Turbeville says his parents were very involved in his life.
Turbeville joined the Air Force in the communication and computers fields. During the time with  the Air Force he did plenty of programming in Ada, JOVIAL, and Assembly. He once was stationed in Italy before leaving to go to college.
Under the  Reserve Officer Training Corps (ROTC) scholarship that the Air Force offers, Tuberville was able to get a college education for no cost. There he earned his masters degree.
After college, he taught at community colleges and business schools part-time in Oregon. He got married and had two kids. He moved to Maui because his wife was originally from Maui. His daughter Samantha is currently a senior at Seabury Hall.
Turbeville's first job on Maui before getting a tech-planning job at Seabury Hall was working at Maui Economic Opportunity.
Turbeville enjoys teaching Robotics. This year is his first time teaching the class. He also likes MIT App Inventor (a program that let users make applications for Android devices), as opposed to the Apple's service of making apps, because Android does not have fees. He thinks all of the games and apps that students make are interesting.
Turbeville also teaches Beginning Programming. In his class, he teaches students the basics of programming. They first learn with Scratch, which is not really a programming language but a useful tool to help students learn programming concepts. Next, they are introduced to Python, a high-level (written in the C programming language as opposed to assembly) scripting language.
Turbeville's favorite thing about being Dean of Students is working with the students because they are a nice group of kids. He also enjoys helping students work through issues. Seeing students challenge themselves with lots of effort is also important to him.
The most interesting part of Turbeville's job according to him is seeing his advisees come back from college or grad school and seeing them  grown up. He said, "One of the best parts about working here is you never know what will happen."
About the Contributor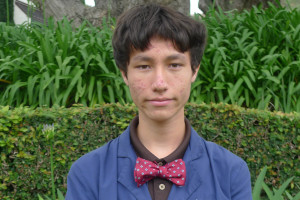 Aaron Rohozinski, Staff Writer
Freshman Aaron Rohozinski is the only male student journalist on "The Seabury Tides" staff. Rohozinski has Seabury Hall since the sixth grade, and he is...