In Seabury Hall's book, Ms. Lindsay is the best librarian
Ms. Lindsay is connected. Not only is she tweeting on Twitter, updating the school's blog, and updating the library's resources, but she keeps up with lots of technological and literary matters. Ms. Lindsay is one of the more, if not the most, connected people on Seabury Hall's campus. Without her kindness and wisdom, Seabury Hall would certainly not be the school it is today.
Linda Joyce Ribucan Lindsay, or Ms. Lindsay as the students know her, is the librarian at Seabury Hall. From helping students find a certain book to helping teachers figure out their computers, Ms. Lindsay shares her knowledge and assistance all over campus.
Ms. Lindsay is Maui born and raised. She was born in Paia and grew up in Hamakuapoko. She went to school at St. Anthony's High School, back when the boys and girls schools were still separated. Initially, she went to Maunaolu College and later went on to study in New Mexico.
Ms. Lindsay was taught how to read and write by her mother. She recalled, "I remember the actual part of [learning how] to read. It was a book called 'Animal Friends.' Actually, I looked for the book 10 years ago, because I wanted to know what that book was. My mother read that to me over and over and over because I loved it so much, and I began to recognize the words."
Even today, Ms. Lindsay's favorite book is "Animal Friends" because it provided a gateway to the world of literature. Another thing she remembers about growing up is how excited she would get when the bookmobile came by, and she could get all the books she wanted.
Ms. Lindsay's love of reading has not dwindled over time. When she opens a new book, she said, "I expect to be entertained right off the bat…It's like a new adventure. I love being sucked in and being part of experiences I would never experience." As for when a book ends: "Usually, I'm sad."
This is Ms. Lindsay's 36th year working at Seabury Hall. When she first came to Seabury, she worked as the headmaster's secretary. Eventually the spot for librarian opened up, and she thought that it was "really cool" that she could be in a position surrounded by books. Her love of lifelong learning made the job a great opportunity. Initially, she did not have experience in a library and did not know what to do. She taught herself, and later went to college to officially learn how to run a library, making Ms. Lindsay the librarian we know today.
Ms. Lindsay's role at Seabury Hall consists of maintaining the library to updating Seabury Hall's official Twitter feed and blog. Both literature and technology are things she loves. "My work is kind of mixed in with my hobby, so I'm really lucky. I get paid for what I like to do," she said. Her use of social media varies; while she uses Twitter for professional development and to connect to teachers, her Google+ account is used to meet new people and share opinions.
Beyond that, Ms. Lindsay is also an advisor to the seventh grade, and meets with her advisees most Tuesdays and Thursdays. Remembering the first day of advisement, Evan Elsasser said, "She was very nice was prepared to do fun things with us." Her seventh graders collectively agree that advisements are always enjoyable. "The advisements are really fun and we just talk about anything," said Taylor-Ann Takatani.
Seabury Hall's librarian has many things to be proud of. Ms. Lindsay's hard work at Seabury has rewarded her with many achievements. The topic "What are you most proud of?" came up in an online discussion group of librarians. Ms. Lindsay shared with the group, "Not to brag or anything, but, my students know that their librarian cares about them."
According to Ms. Lindsay, her job is not only special to her because of her interests, but also because of the Seabury Hall environment. Her favorite parts of the environment include being her own boss and being with the kids. She noted, "The main part is watching kids come in at sixth grade and leaving as 17-year-olds." One piece of advice she'd like to pass on to students here at Seabury is to "make time for learning what you want to throughout your whole entire life. And be open to new things."
Ms. Lindsay is a great librarian and a great person who deserves a lot of appreciation from the students. Throughout her 36 years here, she has made this school a better place. Who knows what Seabury would be like without our beloved librarian? Ms. Lindsay is an iconic and valued member of our Seabury Hall community.
About the Contributor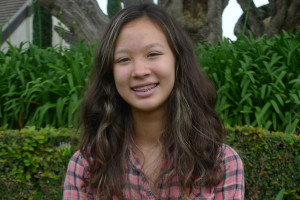 Faith Berry, Staff Writer
Faith Berry is a freshman at Seabury Hall. She has attended Seabury since sixth grade, making this her fourth year at the school. Her favorite subjects...