Kaimana Neil: The man in the spotlight
If you have ever met or even seen Seabury Hall sophomore Kaimana Neil, then you automatically know that he is most comfortable standing at center stage with a single spotlight shining down on him. Neil has the charisma and attitude of a performer. He constantly bursts into song or finds every way to perform. Neil definitely has a passion for the performing arts; he has been in 14 plays in his almost 16 years,
"I love acting because it's a way to feel how other people are feeling," said Neil. "It's a way to understand and connect with how other people feel in situations that you normally wouldn't be in and it's also a way to leave daily problems behind and become someone completely different and new."
Neil carries with him a repertoire of performing in 14 plays to every audition. Every director and theatre nerd on Maui knows who Neil is and can recognize him from any of the shows he has been in. It is rare to see a play without Neil onstage, and he will be center stage as Buddy in Seabury Hall's upcoming production of "The Diviners."
Neil has performed in two productions at Seabury Hall since his freshman year. "I auditioned [for The Diviners] because [Mrs. Sefton] is directing and she's fun and really great to work with. I also thought the play was very interesting," said Neil.
Neil has been cast as Buddy, the central figure of the story. "I cast Kaimana because he was able to portray the innocence and trusting nature of the character," said director Sally Sefton. "I feel he understands Buddy and that is a gift for any director."
"I think this will be a challenging role for me because [Buddy] is mentally challenged. I have to approach it correctly and try and understand how it feels to be like that," said Neil. "But I think this role, while being a challenge, will definitely also help me as an actor because it will stretch my acting in different ways."
Seabury Hall junior Mikela Wesson, Neil's friend and fellow cast member, agrees with Neil in that "this role is hard I think he can pull it off. It would be a challenge for anyone, but I honestly can't see anyone else playing this role better than he will."
Wesson has performed in two plays with Neil at Seabury Hall. "He is very inspiring. He encourages you to reflect on your character and their backstory and what you're trying to convey to the audience," she said.
Not only is Neil a great actor and performer, but he is also a great person to work with and be around. "My favorite part about working with Kaimana is that he is a very entertaining and amusing person, but he also works hard," said Wesson.
"My favorite musical is probably 'Next to Normal.' It has a deep meaning but it's also fun at the same time. It has a great story and great music," said Neil. He dreams of going to New York City to pursue acting and some day playing Gabriel Goodman in "Next to Normal" because "it's a really rich part."
Some of his goals as an actor are to "stretch my range and to inspire people like my mom and Johnny Depp inspire me."
When he is not onstage, Neil enjoys dancing, juggling, shopping, and golfing.
He also enjoys singing, and usually brings his angelic voice with him to the stage. Neil dreams of perhaps attending NYU in New York to further his love of performing. "I think that if Kaimana wants to be an actor, he should pursue it. He is a very talented performer," said Sefton, who has been directing Neil since he was in fifth grade, directing him in seven of his 14 plays.
Audiences will see Neil's passion in performance put to action center stage when "The Diviners" opens on Feb. 28 in Seabury Hall's A'ali'ikuhonua Creative Arts Center.
"I just hope I can create the perfect character," said Neil. Based on Neil's past on the stage, from his first performance in "Stone Soup" at just seven years old, he should have complete faith that he will accomplish what he sets out to do.
About the Contributor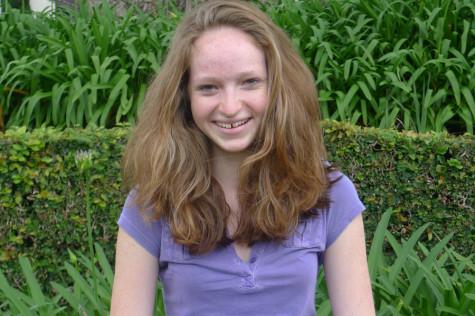 Eliza Wright, Staff Writer
Eliza Wright is a freshman at Seabury Hall. She also attended middle school at Seabury Hall, so this is her fourth year at the school. Wright has been...