It's not over yet: Tips to help you get through midyear exams
We are getting to the time of year where sleigh bells can be heard jingling in the distance if we listen hard enough. The holidays are rapidly approaching, but along with the excitement for the upcoming holidays comes the frightening threat of grades dropping just as quickly.
I hate to be the one to deliver the news, but in the last week before Winter Break, we are still being graded. Not only do we have projects, tests, and quizzes in class, but it is also time to start preparing for midyear exams.
Midyear exams will be held in the Upper School on Tues. Dec. 17, Wed. Dec. 18, and Thurs. December 19.
The best people to give advice about how to go about studying for midyear exams are your teachers, who are writing the exams. You can also turn to students who have been through the experience before for help.
Here are a few study tips from Seabury Hall faculty and students.
Tip #1: Start studying now. Senior Rowan Mulligan said, "Don't leave it all till one or two nights before. Do it slowly in the weeks leading up so you can go in for extra help with all your teachers and go over past tests and quizzes."
Do not put off studying for the mid year exams until a few nights before. Start reviewing your material as soon as you can so that you have more of a chance of remembering the material. Instead of cramming for a few hours the night before the test, review for 15 minutes a night for the next week. Studying for short blocks of time over the course of two weeks will be easier than working for hours the night before an exam, and it will also increase your memory of the material.
Tip #2: Talk with your teachers. Upper School Head Mr. Winham stated,  "Speak with your teachers to get an idea of maybe points of emphasis on the exam or if there is any particular chapters that are going to be more emphasized."
The best resource when studying for your midterm exams is your teachers. They know what is on the test and what you do best as a student in their classes. They can tell you what areas you need to work on most before the test and what you need to study more to be 100% comfortable with. Your teachers want to see you succeed academically and will help you in any way they can to do well on you tests.
Tip #3: Don't sweat the small stuff. Senior Nic Colon advised, "Don't fret every little detail. The whole point of the midterm is to consolidate everything you've learned so far, so I'd look for time to get gather big themes that you've experienced throughout the class."
When you are studying everything you have learned all year, it is hard to memorize every name and date that you have learned. Instead of trying and failing to memorize all the little details, go over the big concepts that you have covered in class.
Tip #4: Take breaks. Junior Dean and U.S. history teacher Ms. Middleton said, "Take breaks about every forty-five minutes or else you go crazy."
Sometimes the thought of sitting down for a few hours and reviewing notes can be very intimidating. The way to overcome this problem and get all of your studying done is to take breaks. If you try to do all of your studying in one sitting, you will quickly become overwhelmed. Try studying for about half an hour and taking a ten-minute break.
About the Contributor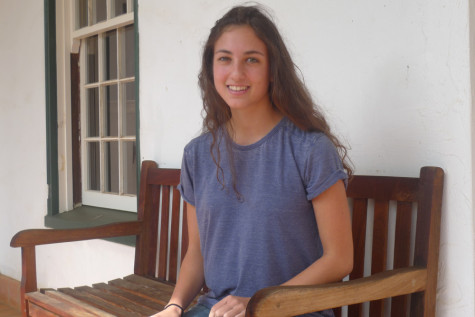 Aria DiMartino, Staff Writer
Aria DiMartino is sophomore at Seabury Hall, and this is her second semester on "The Seabury Tides" journalism team. DiMartino moved to Maui the summer...