Seabury Hall donates to the Philippines
With the holidays getting closer and closer by the minute, the spirit of giving is spreading through the air like the smell of Christmas cookies. Typhoon Haiyan ravaged the Philippines on Nov. 3, leaving over 5,000 people dead and a country physically torn apart.
The students of Seabury Hall could not simply sit back and not do anything while the people of the Philippines struggled to put the pieces of their country back together. In the spirit of giving, Seabury Hall's Middle School and Upper School student governments decided to organize a coin drive to help the country through this difficult time. The goal was to raise $3,000, which the student body not only achieved but also exceeded. They raised a total of $4,679.68.
This coin drive was not just asking the students to their throw spare change into bottles; there was a twist involved. Mr. Winham, Upper School Head, came up with these rules: pennies were worth one point each, a dollar worth 100, and so on. However, quarters, nickels, and dimes were worth the negative equivalent of their value, and could be put into other grades' jars in order to subtract points from them.
With these rules, upper schoolers were motivated to donate money in order to sabotage other grades they had grudges with in a healthy, productive way. While every grade worked hard for their class, particular competitiveness could be seen between the freshmen and seniors.
"I was surprised at the competitiveness of the students. It's not a bad thing of course, and because of it we did raise 150% of our goal, but it did get pretty rough at times, especially when they saw tons of silver coins go into their jars," said student body president Taka Tsutsui in an email.
After a week of the jingling of coins in jars and floods of students in the Upper School office, the senior class eventually won with 14,185 points. The freshmen came in second with 7,951 points, followed by the Upper School faculty in third place with 3,480 points, the sophomores in fourth with -744 points, and the junior class, who came in last place with -1,675 points.
This competition also included the middle school, and they played a big role in raising the donation. Sixth grade came in first place with 35,752 points. One sixth grader's family alone donated $200. Eighth grade came in second with 7,056 points, seventh grade in third with 6,594 points, and the faculty in last with  3,214 points.
Veronica Winham, Middle School student president, "was thrilled at how after the first day each class really got into it." According to Winham, who stated in an email, "Many students were really thinking about strategy as they dropped their coins into the containers. It was fun to hear the kids in the hallways talking about the various classes and what they were planning on bringing in the following day."
The sixth grade and the seniors are going to receive rewards for their generosity and competitiveness. "We are going to give the winning class an ice cream party on a day to be determined by the class and their advisers," said Winham in regards to the middle school.
The seniors prize will be a baked goods party. "However there is talk, and it may potentially go to the Homeless Shelter if the senior class decides to give, rather than receive," said Tsutsui.
The coin drive was a huge success in helping the people of the Philippines, and it will no doubt be a great help to them.
"But keep in mind, there are a plethora of other places all over the world, and even in the United States, where people suffer," said Tsutsui. "We should always keep that in mind because we tend to only think about and help others when one really bad thing happens. Truth is, somebody is always suffering every moment. Don't forget that."
About the Contributor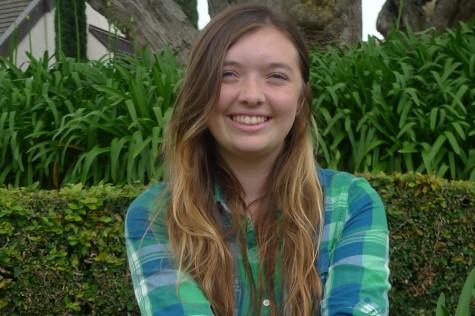 Jessica Brown, Staff Writer
Jessica Brown is a senior on the Seabury Hall Journalism staff. At the age of nine, she moved to Maui from a small town in California, and she has attended...