Bundle up: sweater weather is here
Living on Maui, you can expect to experience unbearable heat in the spring and summer and cool wind and rain in the fall and winter. Now that fall is here, students at Seabury Hall and other schools on the island are dressing for the cooler temperatures by following the latest fashion trend: "sweater weather," said freshman Sage Rearden.
The change in the weather has affected the way students are dressing around campus. Girls are starting to ditch their cute summer skirts and flats for jeans and a nice pair of warm boots. Guys have been switching from casual shorts and collared shirts to long pants and a warm hoodie.
It is not unusual to see students bundled up in scarves, boots, beanies, and sweaters during the school day during the fall and winter seasons. Seeing girls walking in boots almost to their knees and scarves wrapping their necks is becoming more common as winter approaches.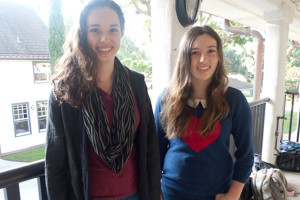 Many student enjoy the season because it is "rare compared to other season," said senior Blake Rizzo. "To me, it feels like summer most of the year, so I enjoy the cold weather," Rizzo stated. The fall breeze and light rain allow students to wear the clothes usually reserved for cold trips to the mainland but rarely get to wear on Maui.
If you visit Queen Ka'ahumanu Mall in Kahului, you will notice in stores, such as Forever 21, American Eagle, and Pacsun, the amount of sweaters and beanies filling the stores is quite overwhelming. Freshman Hi'ilei Luuwai said, "Forever 21, Pacsun, and American Eagle are my favorite places to shop for the fall because they are full of variety and give me a choice of individuality."
Even guys can get trendy with new jackets and sweaters to keep warm. Rizzo said, "There are a lot of jackets out for fall now in the stores that I shop at that keep me warm and comfy at school."
Junior Justin Ringsby agreed that "jackets are the best for fall because they are warm and look good." Male students have been throwing on hoodies or comfortable jackets to keep warm in this cold season.
As long as you stay in dress code and make sure to keep a collared shirt under your sweater or hoodie, you should have no problem following this fashion trend and being as comfortable and warm as possible.
Fall is in the air, and students are definitely taking notice. So, to stay in style, throw on a sweater or hoodie and create a warm, comfortable look when heading to school. After all, it's sweater weather.
About the Contributor
Nicole Steinshouer, Staff Writer
Nicole Steinshouer is a freshman at Seabury Hall. She is new to the Seabury Hall campus; she attended Emmanuel Lutheran School before entering Seabury...