One Degree Forward seeks to change lives in Cambodia
On Monday, Oct. 28, Kyle Ellison, a 2002 Seabury Hall alumnus, talked to the Seabury Hall community about the non-profit organization One Degree Forward. Ellison is a co-founder of the organization.
During Ellison's presentation, students and faculty learned about what the organization offers to children in Cambodia, such as light-bulbs for homes, school supplies like books and computers, and tuition for students.
Ellison founded One Degree Forward with his father Tim Ellison in 2011 after visiting Cambodia and witnessing the terrible poverty in the country. They started the organization for students who have the ability to go to high school and college, but not the funds.
The tuition at Build Bright University in Cambodia, the top college in the country, is only $400 per year a student. Not only does One Degree Forward support the students with the tuition, but it also provides expenses for moving from the village area to the city where the university is located, such as transportation.
"Growing up on Maui, I was fortunate enough to be able to attend a good school and receive a good education at Seabury. Many of the opportunities I've had in my life were made possible through a good education," stated Ellison in an email.
"To have the opportunity to provide that for someone else, before even having children of my own and while still re-paying my own college loans, is one of the best parts of working with these children," he said.
Children who live in much dire situations than us have a happy perspective on life, something that inspires Ellison, who stated, "These children, who are all so unbelievably hard-working and grateful in the face of such abject poverty, serve as a reminder that there are people in the world who are living with far less than we here in Hawaii could possibly imagine."
The organization is a volunteer-based nonprofit organization. Volunteers do not get paid, nor do they get travel expenses to visit the country. All of the money donated to One Degree Forward goes directly to the students and schools. Donors can even look at receipts online to see to whom and where the money has gone.
Seabury Hall's involvement in One Degree Forward did not stop with the presentation in morning assembly. Joseph Schmidt, Seabury Hall's headmaster, challenged each class to raise $400 (the college tuition for one student per year), then donated $400 himself, putting the school's potential total donation at $3,200. That is enough money to send two students through four years of college, or nine students through one.
Cassidy Ross, a Seabury Hall senior, started Seabury's own One Degree Forward club last year. "We originally wanted to fundraise to donate to the Peace Corps, but we talked to Ms. Pirsch, and she told us about One Degree Forward, so we talked to Tim," Ross shared about starting the club.
"Community service doesn't just benefit the people you're helping. It also benefits everyone in the community. You're not getting anything in return, so it's just building character," said Ross.
Ross wants to spread the word about the club and expand its efforts. "Not many people know what's going on," stated Ross. "We want to help fundraise." If any student wants to get involved, they should talk to Ross, Ms. Pirsch, or their class president.
If people in the Seabury Hall or Maui community wish to be a part of this life-changing non-profit organization, they can visit its website at onedegreeforward.org to donate and become a sponsor.
About the Contributor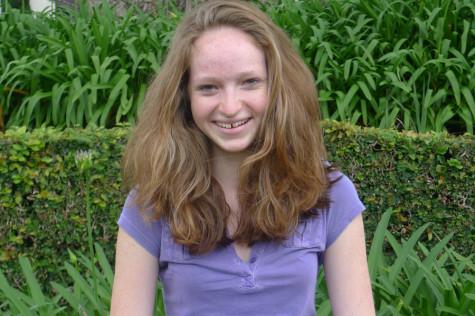 Eliza Wright, Staff Writer
Eliza Wright is a freshman at Seabury Hall. She also attended middle school at Seabury Hall, so this is her fourth year at the school. Wright has been...