You cannot catch Dakota Grossman
Seven days a week, even with tests, essays, and quizzes due the next day, even when she is not feeling her best, even when she has cross country practice in an hour, Dakota Grossman is running. Grossman, a senior at Seabury Hall, is born a runner, and she runs almost every single day no matter how she feels.
To date, Dakota Grossman has won eight individual state titles and is currently the most recognized high school athlete on Maui. She has raced in and won countless races ever since her cross country career started in the second grade at Haiku School.
Grossman's very first cross country practice was in second grade, after which "the coach couldn't stop talking about her," said Bobby Grossman, her father and current cross country coach.
Dakota loves running because it helps her clear her head and get away from the stressful things in life. "Running helps me to relax and gives me the chance to think about life. Also, an obvious reason, running keeps me in shape and healthy along with opening many opportunities for my future," she stated.
The senior's passion for the sport pushes her to succeed. "Dakota really took to running and has always enjoyed it," said Coach Grossman. "You don't have to motivate her. Dakota has always given her best. She doesn't know any different."
Dakota is extremely self motivated. However, her father has played a significant role in her life. "He has taught me to be confident and to never give up while participating in any sport or activity, or while I am pursuing a goal," said Dakota.
Despite the fact that running has been a huge part of her life, she is not just the famous runner we have all heard about. When she is not running, Dakota enjoys playing guitar, soaking up sun at the beach, or swimming in waterfalls. And during the offseason for cross country, she does independent running or track and field, in which she has also won several titles.
After graduating from Seabury Hall in May, Dakota is thinking of going to Oregon State University, University of Northern Colorado, or Western Oregon University to major in sports science and coaching.
Although the cross country season is over, Dakota plans to participate in track and field in her last trimester at Seabury Hall, where she will undoubtedly be just as successful as she has proved to be in the past.
"For the people who want to do cross country, I would just have to say: Don't be afraid! Come out and try the sport and see what you think. Yes, cross country is hard, but very rewarding," said Dakota in an email.
Dakota is a fantastic role model for all student athletes. She shows that with determination and hard work, the sky is the limit.
About the Contributor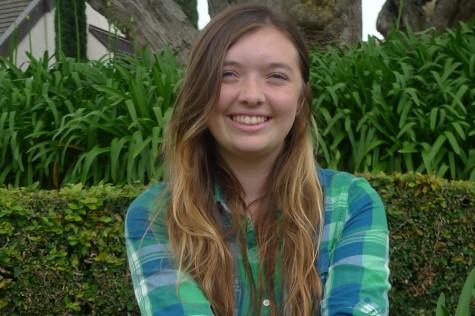 Jessica Brown, Staff Writer
Jessica Brown is a senior on the Seabury Hall Journalism staff. At the age of nine, she moved to Maui from a small town in California, and she has attended...