Lessons in running and life
Seabury Hall's boys cross country saw their hard work result in the Division II state title
With states quickly approaching, it seemed like the boys cross country team did not have a second to spare. In fact, they never really did. With practice two hours a day seven days a week, it would be fair to say that the runners at Seabury Hall worked hard. This season their performance at states, where they won the Division II overall state title, proved just that.
Hard work is what earned them their title at states. The team practiced every day, running four to eight miles every Tuesday and Thursday and six to ten on Sundays.
"The hard training we did in pushing each other to the limit allowed us to stay close together despite the huge mass of runners at the state meet. It allowed us to stay calm and composed so we could focus on the last mile of the race where all championships are won because it is in this last mile that your training comes through to carry you as fast as possible to the finish," senior Nic Colon shared of the boy's performance at states.
No matter how much training they did, the team would never have been able to succeed this season without their coach, Bill Frampton. "Inspiring, passionate, and caring" are three words Colon used to describe his coach. Frampton was the coach of the cross country team for a few years during the 1990s then left when he had his first child. He returned four years ago when his nephew Nic was a freshman at Seabury Hall.
Frampton not only taught the runners how to run; but also taught them important lessons that pertain to cross country and life. One thing that Frampton set out to teach the athletes this year is the idea of carpe diem.
Frampton stated, "One of the ideas behind this statement is to "seize the day", and to do so you must be able to let go of the fear of failure, then you can truly seize the day.  In running, especially in the races, there can be real elements of "fear": such as the fear of failure, fear of losing, fear of not winning, etc… This fear is a serious impediment and obstacle that will prevent you from reaching and attaining your fullest potential."
Their performance at states is not what it is all about for them, though. The runners all understood and valued the experience of being a teammate. Training together every day and working together to earn their ranking at states has brought them together more than almost anything else could.
"A teammate means being absolutely committed to the athletic program you are immersed in. It means loving and pushing your teammates to the best of their ability," Colon shared. "It means pushing yourself to the absolute limit of your physical body for yourself, your team, and your community."
Freshman Erickson Shull shared that "getting to play knowing we got first in Division II" was the highlight of the season.
Although the cross country season has come to a close, the bonds that the members of the team formed this season will last. Everyone involved in cross country will be leaving with new knowledge on running, being a teammate and friend, and conquering any challenge they face in life.
About the Contributor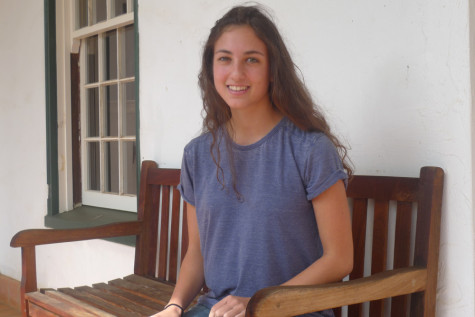 Aria DiMartino, Staff Writer
Aria DiMartino is sophomore at Seabury Hall, and this is her second semester on "The Seabury Tides" journalism team. DiMartino moved to Maui the summer...