Coach Rowe calmly readies his divers for a new season
Tranquil, like the water before a diver breaks the surface. This is probably the best way to describe Dr. Dennis Rowe, the coach of Seabury Hall's dive team. His calm and positive demeanor shows in his coaching.
"He's just very calm. He motivates you and doesn't make you feel bad if you don't do the dive right. He tells you ways to get better and tries to get your confidence up," says Kiarra Burkett, a freshman at Seabury Hall who has been diving with Rowe for three months.
His electrifying blue eyes watch every dive with a judge's precision. He is a judge in some dive meets, which is appropriate because he is a U.S. master diver. While this could bring a lot of pressure for some divers and create tension in the relationship between coach and diver, Rowe is always kind and has advice to help the diver improve.
Rowe grew up in Madera, California. "When I was in sixth grade, I got a trampoline for Christmas. That summer, a diving coach moved into my town in California and he had trampolines at his house, so I went out for trampoline lessons and he talked me into diving," said Rowe.
As he moved on to high school, he played football as well as excelling in diving. Later on in college, he dropped football in favor of gymnastics. He is now a master diver and a member of the Makule softball team.
In addition to his achievements in sports, Rowe went to Berkley for medical school. He said, "I went to Berkley between 1966 and 1970.  Some of your readers may not be aware of what Berkley was like between 1966 and 1970. It was the big school in the student anti-Vietnam demonstration, so for a big part of my time at Berkeley I was very involved in demonstrating against the war, as well as other things we found to protest and demonstrate against."
Upon graduation he did a rotating internship in the only U.S. internship outside of the continental United States in the Panama Canal Zone. He found that he like internal medicine and many of his mentors were cardiologists.
When he returned to the United States, he decided to go into cardiology. He and his wife moved to Maui in 1986. "I heard Kaiser was looking for a cardiologist, and I thought that was pretty funny but we were living in Fresno at the time and I mentioned it jokingly to my wife and she told me to write them, we were moving. And we did," he said.
According to Seabury Hall sophomore Cloe Cadiz, Rowe is "encouraging, inspiring or caring."
"The way he explains to do the next dive is very clear and encouraging. It makes you feel like you are ready to do the dive," said Cadiz, who has been diving with Rowe for two years.
If you watch Coach Rowe while he is coaching, it is easy to see the way he calms people down. When watching an average practice, it is not uncommon to see people showing signs of anxiety from the pressure of doing the dive properly and the fear of doing it incorrectly. Watching a practice led by Coach Rowe, people are excited to try new dives. And if they do not do it the way it should be done, he first gives encouragement followed by one thing to work on, which alleviates a great deal of pressure.
On the subject of Seabury Hall's 2013-2014 diving team, Rowe shared, "Seabury, as it usually does, has a strong diving team this year. We have new young drivers that are starting this year that we think have lots of promise."
With his positive attitude, excellent coaching, and talent divers, this should be a very successful year for Seabury Hall's diving team.
About the Contributor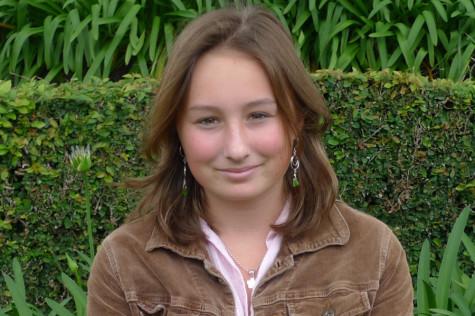 Gillian Hedden, Staff Writer
Gillian Hedden is a freshman at Seabury Hall. She was born in California but was raised on Maui. Hedden is a member of the Seabury Hall dive team, as well...