Kahu Kawika: A man with many roles
On Monday, Wednesday, and Friday mornings, all of Seabury Hall's students meet in the `A`ali`ikūhonua Creative Arts Center. Here, students and staff share important announcements and reminders.
So far this year, one of the most memorable speeches delivered during an assembly was by Kahu Kawika, Seabury Hall's new chaplain. He started his speech by splitting the room in half. He instructed one half of the room to yell, "We matter." To the other side, he told to shout, "We will make an impact."
These are two things that teenagers are not told often enough. Instead, teenagers are more often told that they are young and reckless. But Kahu Kawika certainly made an impact on students that day. He told us the truth that we are the future and we matter.
Compared to other faculty members, Kahu Kawika has many responsibilities. Kahu Kawika is in charge of all pastoral roles in the school. He is also teaches two classes and organizes all of the morning assemblies.
Kahu Kawika was born in England, then moved to the United States as a child. He attended Pacific High School in San Bernardino, California. He then lived in the Netherlands and England before moving to Hawaii.
Lucky for Seabury Hall, his bishop recommended him to headmaster Mr. Schmidt for the role of chaplain, which is how he became the chaplain here, as well as a teacher in the religion and philosophy department.
When he is not busy being a pastor, Kahu Kawika is a teacher. He currently teaches two classes: What is Religion? and The Bible. The Bible is available to freshmen and sophomores, and What is Religion? is available to sophomores and and juniors.
On top of his teaching and pastoral roles, he is also part of the guidance department. If you ever need someone to talk to, his office is right beside guidance counselor Ms. Pirsch's office. You can go to him with any issue, and he will do his best to help you solve it.
"He's an excellent listener, and he's humble," Pirsch shared of him. He can help with anything from fights with friends to the loss of a loved one.
"I think the crises that are spiritual in nature are the ones that fit in a more religious realm, like death and dying. Those would likely be something he can really help out with," said Pirsch.
The most beautiful room on the Seabury Hall campus would have to be the chapel in the Cooper House. It has beautiful koa paneling, and the floors and walls seem to shine when light filters in through the windows.
If you are looking for a reason to spend some time up there, you should consider attending chapel. It takes place every Wednesday afternoon from 12:30-12:50 p.m. The service is very moving and is sure to put you in a better mood.
One lesson Kahu Kawika shared at a recent chapel service is when you are a host do not invite people so that you can get something in return. Invite people who have nothing to offer you, invite them with only good intentions.
As Seabury Hall enjoys it fiftieth anniversary, we should all be thankful to have Kahu Kawika as a part of our wonderful staff. He is sure to be a valued member of our community.
About the Contributor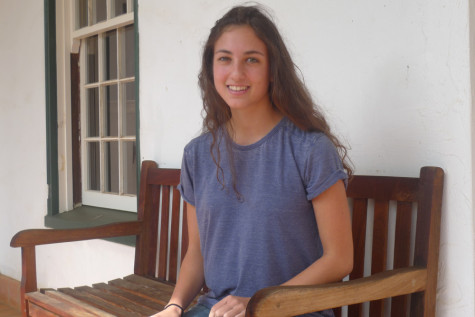 Aria DiMartino, Staff Writer
Aria DiMartino is sophomore at Seabury Hall, and this is her second semester on "The Seabury Tides" journalism team. DiMartino moved to Maui the summer...