Review: Start "Chasing Ice"
Put on a coat and grab your warmest socks! "Chasing Ice" will take you to some of the coldest, most beautiful places in the world to determine the truth about climate change.
"Chasing Ice," which is directed by Jeff Orlowski, is an hour and fifteen minute documentary on climate change. It is extremely informative while at the same time visually striking. If you do not believe in global warming, watch this video. It will get you thinking. This film is definitely for the more mature viewers. Kids under the age of twelve will most likely get bored during this film due to its mature content, although they might be able to appreciate the graphics.
"Chasing Ice" follows a man named James Balog as he completes the project of a lifetime. Balog originally studied geomorphology. But he decided that this wasn't the right career choice for him, and so he switched to something that he would pursue for many years to come: photography. In the film, Balog states, "I loved the science but I wasn't interested in being a scientist."
The journey starts when Balog shot a story for National Geographic about glaciers and climate change. Balog shares, "As I was shooting that story I started to get the very strong sense that this was scouting mission for something much bigger and much longer term that was about to unfold." This is how the Extreme Ice Survey Came to be. The film shows Balog struggle to complete this project and, in the end, succeed.
"Chasing Ice" can simply be described as a visual masterpiece. Throughout the film, filmmakers use action clips, videos, photographs, and even charts and graphs to convey key information. Balog's project is located in Alaska, Greenland, Iceland, and Montana. The video of Balog and his assistants trekking cliffside and traveling across glaciers is exciting and beautiful. The various methods of conveying the information help the viewer fully grasp the concepts in the movie. But the visual highlight of the film is the photography by far. On several occasions, Balog's photos of rivers, glaciers, and streams reveal the landscapes breathtaking beauty. This film will make you want to see more of Balog's photography.
This film is strong and emotional, and will surely make you review your impact on the environment and what you can do to inform the people around you. You will not regret spending an evening watching this movie. If you are in the mood to learn something new about the world, this movie is a must see!
Our Grade: B
"Chasing Ice"
Rating: PG-13
Length: 75 minutes
Genre: Documentary
Director: Jeff Orlowski
About the Contributor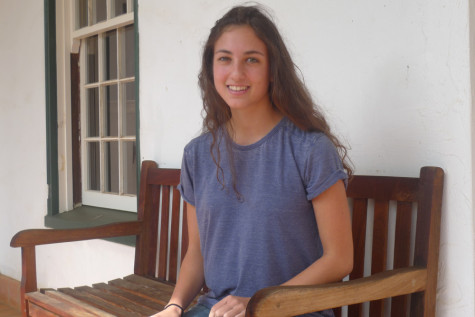 Aria DiMartino, Staff Writer
Aria DiMartino is sophomore at Seabury Hall, and this is her second semester on "The Seabury Tides" journalism team. DiMartino moved to Maui the summer...