Sixth graders are cooler than you thought
Caden Granum is one of those kids that you see at the beach from sunrise to sunset, surfing the day away. His dream job (becoming a pro surfer), his favorite movie ("The Endless Summer"), and favorite his activity all have to do with surfing. He says, "I like to surf, and also skateboard, bodyboard…anything outside really." Through all of his activities, Granum still remains a great student and has a good balance of school and hobbies.
Before coming to Seabury, Granum attended Kamali'i Elementary School. That may seem like eons ago to students in the Upper School, but he was there just a few months ago as a fifth grader. Granum likes Seabury much more than Kamali'i because it is more of a challenge.
One of his fears before coming to school here was that it would be too much of a challenge and he would not be as smart as the other kids. But now, he says, it is a lot easier and the workload was much less than he was expecting. "Seabury is making me smarter," he said. "I used to zone off in Kamali'i, but I can't do that here or else I'll fail." His goal as a sixth grader is to maintain A's throughout the year.
Granum's favorite subject to study is math because he is good at it and it is easy for him. He also loves Mrs. Martelles, which is very common among sixth graders. Based on his first two weeks at Seabury, he says he would tell next year's incoming sixth graders to be themselves and do not expect it to be impossible. Wise words for such a young mind. All students should take his advice to heart.
Granum's advisor, Mrs. Hodara, says that he is a great kid. She said, "He has the attitude that if he works hard he can do anything. When I see him in study hall, he's always very focused on getting his work done." Because Granum loves surfing and all of those outside activities, he tries to get all of his work done during the day so he can have time to surf after school.
A good balance between academics and extracurricular is very important. As a sixth grader, he has a lot of time to create good habits for getting all of his work done during the day. Hodara said that she sees great things in his future because he knows how to balance his schoolwork with his fun activities.
Hodara also said that he has many friends. He is a happy and fun person to be around, which is definitely the sense you get from him when you first meet him. After talking with his two of his friends, Kai Jenkins and Tayo Wagner, they said that Granum is "really cool" and is indeed a very happy person.
Jenkins became his friend when school started. He became friends with him because "he was cool. He was the only other surfer, the only other stand up paddler, and skateboarder."
Wagner also became Granum's friend in the beginning of the year. Wagner's first impression of him was that "he was really cool because he was nice and funny." Granum is the type to always make people laugh because he always has a smile on his face.
Not only is Granum a great student by balancing his social/athletic life and school, but he is also a genuinely happy person and a good friend. Those equalities in just an 11-year-old shows that Granum is truly an awesome person and has a bright future in whatever path he may choose.
About the Contributor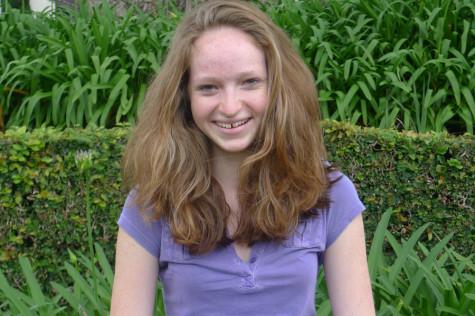 Eliza Wright, Staff Writer
Eliza Wright is a freshman at Seabury Hall. She also attended middle school at Seabury Hall, so this is her fourth year at the school. Wright has been...