A new school and a new sport for senior Taysia Pimentel
Over the last eleven years, senior Taysia Pimentel has grown to become very passionate about paddling. Pimentel has put countless hours into this sport during the school year and during summer vacations. She has been driven by her love for it and the ultimate goal of winning states.
Pimentel has accomplished not only states but also being the only girl in Hawaii to win four state championships, and now she is moving on to her next adventure: college. Pimentel will attend San Diego State University where she will be competing in rowing and majoring in physical therapy.
At first, Pimentel had no interest in playing college sports; however, her parents told her she should. As the seasons and years of high school went on she realized that sports were too big a part of her life to let go, so she started to reaching out to coaches to find out more about collegiate sports.
When she applied to college, Pimentel doubted that she would make it in because of how competitive collegiate sports were, especially because she was a first-time rower. Despite doing paddling for a good portion of her life, she has never experienced rowing. But San Diego State still recognized her talent and signed Pimentel.
"I was very excited because I didn't expect, like, a good college to be able to sign me because like I don't have experience in rowing," Pimentel shared.
Through Pimentel's hard work, dedication, and obvious passion, San Diego State University recognized that and gave her a spot on their coveted team
Being a paddler since age seven, Pimentel has had time to develop her skills and technique in the sport, but paddling has not been the only sport in her life. Pimentel has also played soccer, track and field, cross country, and wrestling.
Pimentel did not foresee her future in paddling, when she was younger her parents wanted her to play sports with college in mind and pursue soccer, because they knew paddling was not college sport and, therefore not a realistic option. But that changed when Pimentel started going to Seabury Hall.
Almost Pimentel's entire family paddles, so she was first introduced to the idea of the sport at a very young age. "My mom used to paddle and, like, my aunts and uncles all paddle. Yeah, we're a tight paddling community," Pimentel shared.
After first starting paddling during the summer with the Hawaiian Canoe Club taught by her current coach Ka'uhane Pu'uwai, she discovered this unique sport, and carried it with her. Her paddling team and community is tight knit and caring. Before Pimentel decided to come to Seabury she knew most of the team here from Hawaiian Canoe Club. "Most of the kids that do paddle for Seabury also paddle for club so it's kind of a tight community.
Pimentel has faced challenges and injuries, her most significant one being this year when she discovered a bulging disc in her back. Her practices were cut to a minimum and physical therapy became regular. When Pimentel finally felt better, she tried to go back to practice, but soon the injury would get worse and she would be out again. But reflecting back Pimentel learned to move on and not dwell on a mistake: "It helped me get over that, like, everyone goes through a struggle, and you have to move on from it and not dwell upon it."
Pimentel has paddled at the Hawaii Canoe Club for many summers and has paddled with Seabury Hall since freshman year. She was first influenced to go to Seabury by her inspiration, Kaulu lu'uwai, an alumna from Seabury. Kaulu encouraged Pimentel to go to Seabury over Kamehameha, and she urged Pimentel to paddle at Seabury and continue the sport, which she ended up doing. "She encouraged me to paddle and continue with it," Pimentel explains.
Pimentel is a incredible person and a remarkable athlete. Pimentel helped her teammates and in return they make her a more caring person. "I would end up helping others, with their technique or their skills and it made me more of a caring person rather than worrying about myself," Pimentel said.
But before she goes Pimentel leaves us one last bit of advice for all of the aspiring athletes here at Seabury: "Definitely keep up with your sport because when you slack you end up slacking for the rest of your life, and like it really helps if just you stay strong even when times are rough, practices can got hard at times but, there will always be a good outcome if you put in the work."
Pimentel leaves a legacy of a caring, inspiring person here at Seabury Hall as she moves onto her next adventure rowing in San Diego.
About the Writer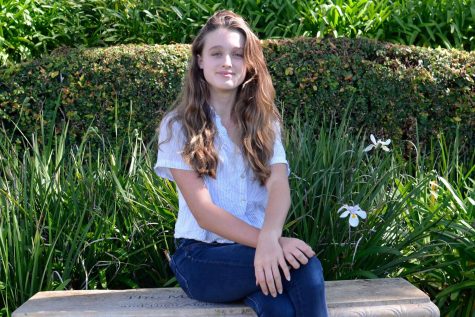 Leah McGregor, Staff Writer
Leah McGregor is a freshman at Seabury Hall. She was born in Salt Lake City, Utah. Her parents moved there for the snow. At the age of three, McGregor...