Seabury's own Fosse: Teacher David Ward shares his love for dance
For David Ward, dance is simply not a hobby or pastime; it is a lifestyle. "We dance because it fuels our souls," he said.
David Ward is a dance instructor at Seabury Hall, and he has been at the school for 30 years now. Ward teaches many styles of dance but mainly focuses on Broadway, Fosse, and Jazz. Ward teaches every school day and at every level ranging from beginning to advanced.
Ward has contributed to Seabury Hall's dance community by helping young aspiring students to let their creative energy turn into movement.
Ward explained the demanding life of a professional dancer in short he talks about achieving success in the dance industry and how challenging it may be. "There is a one in a million chance that one will make lots of money from this type of job, but we don't do it for the cash or the fame. We do it because we love it and because we couldn't imagine a world without it," said Ward.
One of the best aspects of dance is the many lessons you can learn to succeed at a higher level. Ward commented, "Dance takes discipline. It takes focus, and most of all it takes sacrifice"
Although dance can fuel the soul it can also crush hearts, as he explained the audition process in order to get a job, "The audition process is very harsh. It's rigorous and when you don't get the job, it's very hard, you put yourself in this position of doubt. You constantly ask yourself after the fourth, tenth, or even twentieth audition if you are just wasting your time, wasting your life, but then you just keep on trying and go through the rough patch because dance inspires you so much," Ward expressed.
Ward started dancing at the age of 14 in a play at his high school called "Carousel." "The director of the play heard that I was a really good mover because I was a competitive gymnast. I obliged, and it was the best experience of my life. It was the day I discovered my passion. The following weeks lead me to take ballet classes and then the next year I transferred to a dance school," Ward shared.
As a teen, Ward was very focused on his dance training. Rather than going out with his friends, Ward was in the studio training and rehearsing. After high school, Ward moved to Europe to train in contemporary dance and ballet and then moved on to New York where he did his most serious dance training at the Carnegie Mellon Institute of New York. As Ward continued to pursue his dance career, he taught classes in Europe and New York.
In 1984, Ward came to Maui to visit a friend for three months, and during those three months, Ward taught numerous workshops, including some at Seabury Hall. Then he returned home to New York to teach some classes. Ward stated, "I was tired of the hustle and bustle of the big city and I was ready to move on to a smaller town, but instead, I went back to Europe, then again teaching classes at my old college."
Finally, in 1988, Ward decided he wanted to once again visit his friends in Maui, intending to only stay for a couple of weeks. Ward enjoyed Maui and Seabury. They both nurtured the arts and accepted each of Ward's creative ideas. "Maui's people let me develop my ideas with open arms and support for what I do," Ward said.
In 1988, Seabury Hall wanted to start a dance program, Ward shared, "At first I thought I was only going to help out, you know, get it going. Instead, they offered me a job to become the head of the dance program, I thought about it and then accepted the job. The first batch of students is still my favorite because they were fresh and it was new for myself and for them."
Each year, Ward brings in the top dancers of Seabury Hall into what he calls "The Company." His very first company had a total of four kids at that time neither the PAS nor the CAC was built, so they practiced in the dining hall.
Now, 30 years in, Ward teaches a company full of 12 dancers. "Seabury's community has truly allowed me to grow with this program," Ward explained.
From people to nature, Ward finds inspiration all around him. For example, he wanted to create a message to the dance community to help others understand the atrocities of homelessness in New York. Ward titled the dance "America's Shadow."
Ward's choreography is mostly theatrical; another one of Ward's many passions also includes theatre. Ward shared that many of his dances are created to tell a story, so there are not a lot of abstract moves, and he prefers some type of storyline while building a dance. "Each dance is different and each one is inspired to uplift others, to spread awareness, and to also hopefully inspire others to help or make a difference in their life," Ward said.
Ward's students described him in almost the exact same way. Hailey Shapiro, a junior at Seabury Hall and a member of the dance ensemble since the sixth grade, and Jordan Akana, a freshman, had a similar description of Ward.
Shapiro describes him as "determined and hardworking," while Akana comments that he is "a very determined individual."
"It's as if dance chose me," Ward recalled after talking about his career because of how fluid and organic the process was for him. Dance is best described in three words: passionate, expressive, and creative. Dance was more than just a thing Ward once did in a play as a kid, for Ward: "Dance is spiritual. Dance is an emotional journey."
"Whether my students pursue a career in dance or just does it for fun, I believe each of my students take away a valuable lesson about life, it might be discipline it might be control or might even be sacrifice," Ward said.
About the Contributor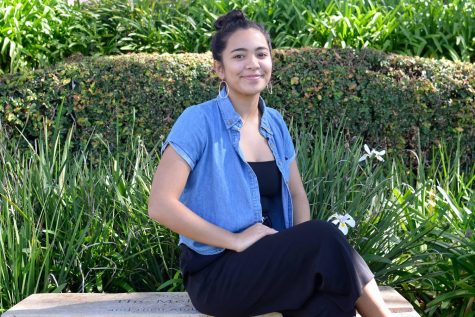 Mila Kehano, Staff Writer
Mila Kehano is currently a freshman at Seabury Hall. Born and raised on Maui, Hawaii, Kehano is an adventurous and enthusiastic person who enjoys traveling...