The well-travelled athlete: Seabury Hall's athletic director Mr. Robert Dougherty
From playing professional football to coaching kids and teaching them the fundamentals of athleticism, Seabury Hall's athletic director, Mr. Robert Dougherty, has had many years of experience with athletics.
Dougherty came to Maui and Seabury Hall five years ago, but he had been coming to the island for about 20 years before settling here with his wife and family.
Dougherty attended Mt. Whitney High School, which is close to Farmersville, California, where he grew up. At Mt. Whitney, there were many differences compared to Seabury Hall, from academics to athletics.
"My high school had a lot of really really bright kids," Dougherty said, "and I was lucky enough to be in honors classes and all that…a lot more poor, a lot of poor kids, lot of minorities. But athletics was a lot more competitive. Just a lot of talent, lot of scholarships, pretty high level of athletics."
With the variety of differences between Seabury Hall and Mt. Whitney, the aspects do not seem to be very comparable. "This high school made my high school look like a prison yard," Dougherty said humorously. "You got a big fight every week probably. At Seabury, I haven't heard of one fight in 20 years."
Dougherty was an accomplished high school football player. "I did play professional football…out of high school, I was a 5 foot 9 inch quarterback, which is a short quarterback." Dougherty set the state California record in completion percentage.
Dougherty had an outstanding football career while his team won a lot of games. "We were 12 and 1 my junior year, so we had really good teams," Dougherty said.
When Dougherty was in junior college, he also played basketball and baseball. He did not get any scholarships, even though he had a good GPA, good SAT scores. Dougherty wanted to play baseball in college, but he had hurt his back. Later, he got a full ride to Boston University and played football.
Dougherty had surreal time attending Boston University and appreciated all the moments during his time there. "I loved it. It was the most amazing journey…Loved the city of Boston," Dougherty said.
Dougherty mentioned that he played football while attending college and expressed much gratitude towards those memories: "We were really successful, we went 12 and 1, and 9 and 3…21 and 4 over two years at BU football, so that made it really, really fun." Not to mention that Dougherty is on the Boston University Hall of Fame regarding his outstanding football career.
Dougherty played at BU for two years, and he was named East Coast player of the year two years in a row as a quarterback, then he got drafted in the Canadian Football League (CFL) to play for the Toronto Argonauts in 1995. He went up there, made the team, played half a year there, then got traded to Ottawa Rough Riders. He finished a year with them, and they resigned him for the next season. In the meantime, however, that team folded because their franchise went down. "So, I got drafted in NFL Europe." Dougherty then went to Spain and played for the Barcelona Dragons. In 1997, his team won the World Bowl, which was the championship.
During his time coaching kids, Dougherty was able to bond with all of his athletes in various ways. He says there is more to coaching than just telling a kid what to do and they do it. "I think modern day coaches…they have to be able to identify with a student athlete more and I was able to do that I think," Dougherty said.
Dougherty coached at multiple schools including his old high school. "[I] started at a small high school Corcoran. Then went to a bigger school, Exeter." Corcoran High School is located in California, and Exeter High School is in New Hampshire. "My final high school was Mt. Whitney, my alma mater, where we won the section championship. Then I went up to the junior college for four years, two as offensive coordinator and two as head coach," Dougherty shared in an interview.
The opportunity knocked for Dougherty to come here to Seabury Hall in 2013. "Everything aligned perfectly. I was a high school football coach for 10 or 12 years, then I became a junior college coach which I thought would be really fulfilling," Dougherty said. He enjoys what he does, and loves being a part of the community. "It was just good timing."
At Seabury, Dougherty loves his job being the athletic director. "It's great. To be around kids all day is fun…To work in the beautiful environment. Like, this is awesome. There's really not a lot of negatives." Dougherty loves being able to work with kids and sharing his enthusiasm for sports.
One of Dougherty's colleagues, Guy Batchelder, the dean of Students, has witnessed firsthand Dougherty's enthusiasm as an athletic director. "As far as his job goes, I think he always trying to put Seabury on the cutting edge of stuff. We're out here on an island…so me and him both try and stay current with sports stuff…he's always trying to…keep kids current…that can put us ahead athletically."
From all of his years as coaching, Dougherty knows that there is more to being a coach than just the sports. "I think playing sports in general…requires you to put others before yourself and I think that's a very important quality that everybody should have," said Dougherty.
Dougherty has lived it all from playing professional football to coaching kids, and he loves being able to share his love for sports with others. His athletic skills can inspire others to know that there is more to sports: being able to put others before yourself and getting to know others on a more personal level.
About the Contributor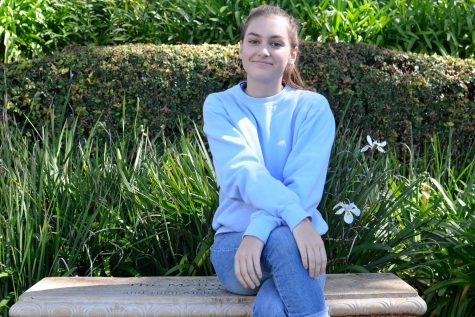 Lea Stuart, Staff Writer
Seabury Hall freshman Lea Stuart is grateful for the experience that she gets living on Maui. She was born on Saipan, the largest of the Northern Mariana...