'A renaissance man': Todd Van Amburgh brings a love for art and acting to Seabury's community
Todd Van Amburgh, dressed in full Elizabethan regalia, bellows out over Seabury Hall's student body to announce the beginning of a day of Shakespearean acting from the sophomores. The next day, Van Amburgh is in the classroom, teaching students in the intricacies of Shakespeare, poetry, and other famous literature. Whether it is teaching, directing, acting, or running lights, Todd Van Amburgh is constantly behind (and in front of) the scenes at Seabury Hall.
Van Amburgh grew up near the coast in Maine and New Hampshire, where he claims it was "warm during the summers." He joked, "We went to the beach in the summer. It was freezing, but we didn't know any better."
While in college, Van Amburgh studied Theater and English at Trinity College in Hartford, Connecticut, and at Middlebury College in Vermont, where he attended the Breadloaf School of English, receiving the opportunity to study abroad at Oxford.
"I wanted to do some directing of plays before I went off and … I thought I was going to go get a directing MFA," Van Amburgh said. "The [degree] included English. I was an English and Theater major, so I wanted to get this theater experience and English was part of it."
His goal to have a fine arts master degree in directing led him to become an English teacher. "I got a job that involved doing both, English and Theater, like I still do now," he said
Before teaching at Seabury, Van Amburgh taught at St. Paul's School, a college preparatory high school founded in 1856 in New Hampshire, and at the creatively-named TASIS, or The American School In Switzerland.
"I used to take kids down to the Northern part of Italy on field trips down to the Alps," Van Amburgh described.
Despite these international ventures, Van Amburgh returned back to the US in search of new opportunities on the West Coast to gain more experience as a director and actor.
"I had this placement agency that would [find a job] for you, right, and they interpreted between Seattle and San Francisco to include Hawaii, Indonesia, everything over there…This one was for Maui and I thought, 'Oh, you know, I'll try it.'" The rest is history, as Van Amburgh has taught and directed theater at Seabury since 1990.
Despite coming across Seabury by a wild chance, he still loves it here, as shown by his 27 years history at the school. He was drawn to and stayed for the passionate students and faculty, saying, "It's always been a really friendly, open place, and it still is that. Teachers have a lot of freedom, and not only do they have freedom, but they collaborate and give each other ideas, so there's variety and people aren't always stuck doing the same thing over and over. It's congenial that way."
However, it did not start out smoothly. Van Amburgh told a story of the earlier years of his Seabury Hall career, saying, "In the beginning, it was very small and had about half the number of buildings, … and it was kind of poor. At one point about two or three years in, the headmaster brought us over to the–it was the music building at the time actually and said, 'Look, if we don't charge more tuition we're gonna be bankrupt in a couple of years." So it was not all fun and games from the beginning, with Van Amburgh describing it as "touch and go" for the first few years of his Seabury career.
Since then, Van Amburgh has taught English and directed many plays, even participating in some, like "The Crucible" last year.
He also taught Seabury Hall college counselor Francesca Cipro, who was taught by Van Amburgh in her junior or senior year and graduated Seabury Hall in 1999.
"My general memory was that for some reason I did not want to be in his English class when I was in high school," Cipro said. "I don't know why I thought that, but I was hesitant when I first came into class, and then I ended up absolutely loving his class. I felt like I learned a tremendous amount about literature through picking through readings. I believe I read The Great Gatsby with him. I just felt like he was such a wonderful teacher. [Van Amburgh] is calm, intelligent, engaged, and those are things that really resonate with me from him," Cipro described.
One of Seabury's other figureheads of theater is Sally Sefton, who has worked with Van Amburgh as an English teacher English and director for about 20 years, and has developed a very strong impression of him over that time.
"My impression of him is that he has the single best mind of anyone I have ever had the pleasure of working with. He's a Renaissance man. He's talented in so many areas, and my admiration for him grows with every chance I have to work with him as a tech director, as an actor, as a department chair," Sefton said.
Van Amburgh has also been an inspiration to Sefton's teaching and directing style, as she described, "He's influenced me to work to find creative ways to get the students to think. He's very creative in encouraging thought in students. He has influenced me as an artist in so many ways. His sense of calm has inspired me to remain more calm in the most stressful times…His big brain has helped me always seek plays that are more of a stretch individually for the kids…plays that are outside the realm of your typical high school play."
She also, however, has had some surprises about Van Amburgh's interests.
"Mr. Van Amburgh knows a lot about the Supreme Court. He's like a walking encyclopedia about the Supreme Court, and I did not know this until last year," she said.
All this passion and intelligence had to start somewhere, but Van Amburgh says that the inspiration for his career is purely fun.
"I started out liking to act, and I still do. I'm in a play right now, actually," Van Amburgh said. "It's a play! It's what you do for fun. Reading and being in a play, both of those things are like leisure activities, so I get paid to do leisure activities, basically."
Van Amburgh also participates in theater off campus, and, as he said, is now in a French comedy called "Tartuffe" by Moliere. This play centers around a boarder, Tartuffe, who attempts to steal the property of the house he is boarding in. This play is also being performed in the round at Seabury's own A'ali'ikuhonua Creative Arts Center from March 17-25.
"You have this crazy guy, and everyone's trying to bring him back to sanity," he described. "This time I'm the crazy guy."
Van Amburgh has seen much improvement in Seabury's campus and facilities over the years, reflecting the quality of the education that he thinks has always been present.
"There is a more diverse student body. There is that the school went from struggling financially to being secure and healthy. Because of that, the other thing that happened is we got the facilities to equal the quality of education … All along there were people going to Harvard and Yale and Stanford … and now the facilities have come up to match the education," Van Amburgh explained.
He also noted what he noticed about how new ideas have affected the many ways that people learn.
"Everyone is interested in how to do it right, how to do it better, because maybe that's what the now part of it is, maybe we've realized that things are changing a lot, you know, and how people learn and how much attention people have and stuff like that," he said.
Additionally, Van Amburgh runs a Twitter account @VanAmburgh, where his eccentric profile picture draws viewers into his current-event related posts and philosophical details.
Van Amburgh has been a leader in Seabury Hall theater and English for years. His calm personality and his Renaissance mind have lead Seabury's theater productions to new heights through quality and good leadership. He has directed and acted in many a play on Maui, and has added talent and intelligence to Seabury Hall, as well as Maui's theatrical and literary communities. With such extensive experience, Van Amburgh gave some advice to budding actors: "If [acting] is your passion, then go for it. You should do something you love. It makes it easier."
About the Contributor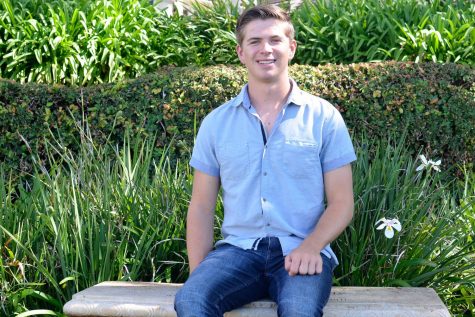 Kai Ponting, Staff Writer
Kai Ponting is currently a senior at Seabury Hall. He was born in Palo Alto, California, but moved to Maui at just nine months old thanks to the invention...