Film Review: Three more dads in 'Daddy's Home 2' makes one good movie
Hang on for a minute...we're trying to find some more stories you might like.
"Daddy's Home 2" has a unique approach; it has a clean version of humor that comes from the main characters who are adults. Not only is it funny, but it is also kid-friendly too.
The plot is detailed yet simple: two guys work together to make both of their families have the "best Christmas ever" by putting their personal needs aside and by doing whatever it takes to make everyone get along.
The dramatic part, what starts off the "conflict" in this movie, is when the two main characters, Brad (Will Ferrell) and Dusty (Mark Wahlberg) find out that their respective dads will be coming home for the holidays to spend Christmas with them. The two dads, Dusty and Brad, are trying to come to terms with their own friendship by combining both of their ideas on how to make their Christmas great for their entire families.
The plot is reasonable: two dads come in and ruin the vibe, which makes everyone work together to come to terms with that. However, the humor is great. There is so much physical humor, which really puts the experience over the top.
The jokes are pretty good too; however, there is not enough variety of jokes coming from all of the characters. What really did makes the humor more enjoyable to watch and take in is the music. The music gives a good touch to the speed of the scenes. When things are chaotic, the music speeds up, and vice-versa.
In one scene, Brad (Will Ferrell) is mowing the snow in the yard at their cabin, while others are decorating the roof. He gets distracted and the mower ends up sucking up all the Christmas lights and causing the giant Santa to fall off the roof and crash down onto Brad. It is hilarious.
These types of scenes are good examples of how physical comedy draws more of a younger audience, since "Daddy's Home 2" is a kid-friendly movie.
The acting, though, is what makes the comedy so compelling to watch. All the characters have their own unique traits, from sarcasm to stubbornness. In a funny way of course. From these personality traits, it causes different reactions with sudden movements, which is what makes these scenes so funny.
A very noticeable aspect of the film cuts are the transitions. It seems like it was a challenge for the movie editors and script writers to change settings in a smooth way. One minute the whole family is at home, packing their car; the next minute, they are at the cabin where everyone is staying. There could have been some more detail included in the transitions from setting to setting.
Overall, "Daddy's Home 2" is worth it. There's no need to make sure the minors are gone; instead, this movie is perfect for a family to come together, cozy up, and enjoy a holiday movie. "Daddy's Home 2" also shows you the fundamentals of keeping a family together, no matter what position it may be in, which is one of the aspects about this film that was the most admirable. There is still humor and yet a nice/sentimental message delivered at the end: family comes first.
Our Grade: B
"Daddy's Home 2"
Rated: PG-13
Length: 100 minutes
Genre: Comedy, Family
Directed by: Sean Anders
Starring: Will Ferrell, Mark Wahlberg, Linda Cardellini, John Cena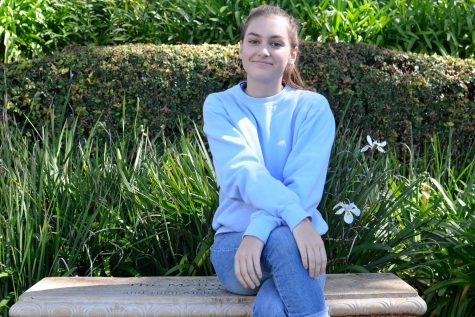 Lea Stuart, Staff Writer
Seabury Hall freshman Lea Stuart is grateful for the experience that she gets living on Maui. She was born on Saipan, the largest of the Northern Mariana...