Film Review: 'Coco' brings the land of the dead to life on the big screen
Many sceptics took to Twitter to express their feelings about "Coco," comparing it to Jorge Gutierrez's "Book of Life," which was released just three years ago. In various ways, they were each asking the same fundamental question: Do we need more movies about Día de Los Muertos? And before I get much farther, the answer is yes, absolutely. As we strive for greater diversity and inclusion in storytelling and in cinema, the greater the diversity of cultural representation, no matter how similar to another film, is a step in the right direction.
Lee Unkrich's "Coco" tells the story of young Miguel Rivera, a descendant of a world famous singer, Ernesto de la Cruz. Unfortunately, after his great-great-grandfather Ernesto walked out on his wife and family to pursue a career in music, his great-great-grandmother forbid her family to indulge in music. Therefore, it's only fitting that Miguel is an aspiring self-taught guitarist growing up in a family where music has been banned.
With a cast of well known Latino actors including Jaime Camil from "Jane the Virgin," Lombardo Boyar from "Happy Feet," Cheech Marin from "Cars," and comedic legend Gabriel Iglesias, the characters in "Coco" are brought to life.
Pixar's attention to detail never wavers, not even in the music. Adrian Molina, the co-writer and co-director of "Coco," explained that "because the film takes place in Mexico, [they] wanted it to be rooted in the language of Mexican music." And indeed it is. Many artists of Latino descent worked tirelessly to ensure that the music to be featured in the film was original and tradition. In an interview with US News's Jessica Harington, composer Michael Giacchino said, "I wanted you to watch the movie and feel like you were there," Giacchino says. "We wanted it to come from a place of home — Mexico." And throughout the entirety of the movie, I felt completely at home while I was immersed in a unique and unfamiliar culture.
The music is truly a feat in and of itself but the real beauty of the film is in the artistry: the animation. "Coco's" land of the dead features 7 million lights in a single scene making it one of Pixar's most stunning animations yet. In addition to an incredible staff of animators, Lee Unkrich went to extreme lengths to ensure that the movie was culturally sensitive and an accurate representation of Mexican heritage.
A team of 30 to 40 volunteer advisers were recruited in order to ensure cultural accuracy. In the early stages of the production, Miguel's abuelita was portrayed as "a coldblooded disciplinarian who kept him in line using a wooden spoon." And it is thanks to the advisors that she became the character she is in "Coco," a well meaning grandma whose chanclas are her weapon of choice.
With captivating storytelling and multiple unforeseen plot twists, the story is beautifully brought to life by Pixar's animators and the cast. In the words of Ernesto de la Cruz, "Coco tells" moviegoers, "Remember me," and we most certainly will.
Our Grade: A
"Coco"
Rated: PG
Length: 109 minutes
Genre: Fantasy, Mystery, Animation
Directed by: Lee Unkrich, Adrian Molina
Starring: Anthony Gonzalez, Gael García Bernal, Benjamin Bratt, Alanna Ubach, Renee Victor, and Jaime Camil
About the Contributor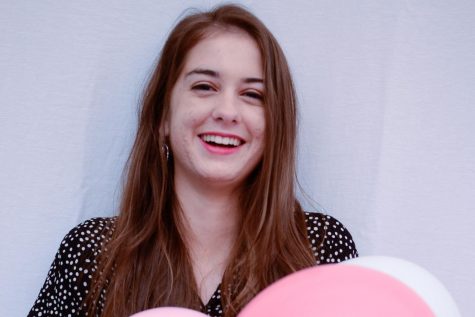 Kathryn James, Staff Writer
Seabury Hall senior Kathryn James was born on June 10, 2000 in Danbury, Connecticut. Her mother lived in a small town in West Virginia named White Sulfur...