Seabury Hall artists participate in Maui's 95th annual county fair
This October, Seabury Hall students submitted art pieces to be judged and awarded in Maui's 95th annual county fair. Along with Seabury Hall students, hundreds of other participants from across the island showcased their photography, painting, sculpture, or drawing skills to exhibit talent and creativity.
The school art exhibit was held in the War Memorial Gym, and visitors of all ages were welcomed and encouraged to walk through the gallery to admire and support the aspiring artists and their work.
Students were given the opportunity to submit artwork to Ms. Lenda McGehee, Ms. Wendy Romanchak, or Ms. U`ilani Nahoolewa, who all teach art at Seabury Hall.
"Each student was allowed to enter one piece into the gallery and the entire show is sponsored and manned by art teachers from across the island," McGehee explained.
Students chose a variety of mediums for the art that was submitted and there were many categories that pieces could have been entered in. From acrylic to watercolor, to landscape photography to portraits, the show was filled with a wide variety of visual art forms.
The school art exhibit has been a major attraction for visitors for many years now and is an excellent way for students of all ages to share their love and passion for the visual arts.
Zoe Tezak, an AP Art student, loved to look at the gallery and has gone almost every year to admire the work of other students.
"This program allows people from across the island to express real things things that are happening and I think that it is awesome that students have the opportunity to share almost anything they want with the public," Tezak said.
Clair Peck, an AP Art student and journalist for the Seabury Tides, also participated in the student gallery in this year's fair. "I submitted two photos into the photo salon. I focused my art pieces on portraits of my brother, Ross Peck, and Lily Pickering, a former student of Seabury Hall," Peck shared. He mentioned that he has always been fascinated by portraits and tries to evoke certain moods as he takes candid pictures of his subjects.
This was Peck's first time participating in a student gallery and he was anxious to see the feedback that came from his photographs. "I've never really entered my pieces in an art show, so I was super interested to see what my work was like compared to others," Peck explained.
Senior Bailey Dalzell entered an art piece created with pastels. The pastel captures the different colors in a horse's eye and is a unique representation of the various hues that blend in with one another. "I've always enjoyed going to the art exhibit at the fair, and this year it was neat to actually have one of my own pieces in the showcase," Dalzell said.
From one side of the gallery to the other, Seabury Hall students of all grades shined through with their artwork and did extremely well in the competitive categories.
About the Writer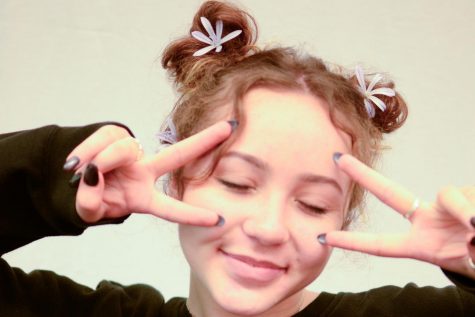 Alex Abraham, Assistant Editor
Seabury Hall senior Alex Abraham has already travelled to fourteen countries around the world by the age of seventeen. Born in Springfield, Oregon, she...