Holoholo Bookmobile visits Seabury Hall to spread a love for books and reading
The Holoholo Bookmobile, a library and database on wheels, visited Seabury Hall's campus from 11:00 a.m. to 1:00 p.m. on September 29 to spread a love for books and reading to the school community with the help of the school's librarian, Ms. Linda Lindsay.
On the bookmobile, students, teachers, and staff members could borrow any book of their choice as long as they had a Hawaii State Public Library Card.
Many students were enthusiastic about the event. Book lover and Seabury sixth grader, Aubrey Corah shared that she was excited that the bookmobile came for a visit. Hopefully, she was able to pick out a few mystery novels to read next.
Other students danced around in bubbles, hula hooped, and participated in juggling competitions with their friends. Lemonade and popcorn were served as a post-lunch snack and those who had a library card even entered to win a free book of their choice.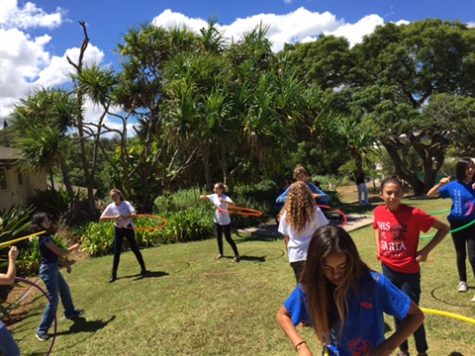 At 11:00 a.m., students in the library listened to Mrs. Schad's middle school choir sing their self-written parody to celebrate Ms. Sarah Bakhiet's first Hawaii State Public Library Card. As she walked through the front door wearing a dress printed with books, she listened in awe to the students' voices. As soon as they finished, she and the students had a group hug, after which she responded, "I have my own anthem."
Students in Mrs. Lorusso's English classes and Ms. McGehee's art classes received extra credit by picking a book about their class's subject, taking a picture with it, describing the central point, and sharing it with their teacher.
The Holoholo Bookmobile started a year and a half ago with a $300,000 grant paid by donations to Maui Friends of the Library.
Since the 1930s, bookmobiles regularly visited rural areas of Maui including Lindsay's hometown Hamakuapoko. Lindsay explained that the bookmobile "was [her] lifeline in the little area that [she] lived in." Every two weeks she said she "would stock up on books."
"My experience was so wonderful," Lindsay summarized.
Betsy Knight, the Makawao youth librarian, commented that she thinks the Holoholo
Bookmobile is "a lovely mix of old and new … a wonderful, old tradition from way back."
Knight continued explaining that Friday was an event to help spread the impulse of the bookmobile, to "reach as many people as possible and share information as broadly as possible."
Just like Knight, many other librarians believe that Friday's event was a really special way to engage students in the reading.
Jessica Gleason is the current bookmobile librarian and has had the job for about a year and a half. "Everywhere we go we get smiles. People are happy to see us," she affirmed.
Gleason recognizes the bookmobile's influence on people's lives and hopes that Friday's event brought happiness to students, teachers, and staff members.
The bookmobile has one goal of "building readers and making and connecting joy and happiness with reading," Gleason concluded.
Students can find the schedule and continue helping the bookmobile accomplish its goal by visiting librarieshawaii.org. Online, students and teachers can find resources, such as a testing and education center or even view the bookmobile's personal page to visit it at other locations.
Correction: It an earlier version of this article, Ms. Lenda McGehee's and Ms. Betsy Knight's names were misspelled.
About the Contributor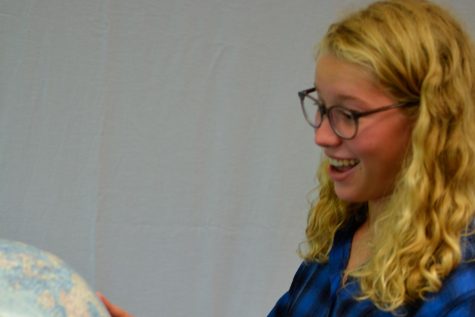 Lucy Dustman, Staff Writer
Born in Cincinnati, Ohio, Lucy Dustman is a new student at Seabury Hall, joining the class of 2019. From Ohio to China to Maui, Lucy has traveled the world...