Seabury Hall's new gym renovations excite many
The Seabury Hall gym is currently undergoing renovations by Castaway Hawaii. The company started in May and are projected to finish in approximately five weeks, as they have many restoration projects left to accomplish.
Several projects have been completed so far. In addition to the far wall of the gym being extended outward to allow for more room in the athletic offices, the athletic training room received a new whirlpool, and the offices were revamped. Old windows in the gym that had been covered up due to leaks were replaced.
The wall between the weight room and cardio room was knocked down, and the two are now combined into one room with fans, mirrors, a new sound system, and a flat screen TV, which are all new to Seabury.
Once the upper level receives crash pads on either side of the basketball court and new bleachers, work on the locker rooms can run more smoothly. The new locker rooms will have smaller lockers, individual stalls, and a tile floor.
"Students will now have a proper place to have meaningful workouts," said athletic trainer Kevin Yamashiro about the new weight room.
The weight room now uses MYZONE, a group heart-rate tracking system. Both PE students and students interested in training with Athletic Director Robert Dougherty are eligible to use this program. Dougherty will also be implementing specialized workouts by his friend, professional strength coach and author Michael Boyle.
In March, a member of Boyle's strength certification staff will be coming to Seabury to give a presentation. This program will hopefully lead to a new segment of guest speakers coming to the gym, according to Dougherty.
"I think Seabury has the nicest high school weight room on island now," said Dougherty. "Maybe not the biggest, but the most advanced equipment."
Due to the projects that still have to be completed, the gym's original target of being done in September has passed. According to Dougherty, set backs and work on different levels stalled the process as a whole. He has already had to send one broken speaker back.
Dougherty wanted to begin renovations last year, but when his requests finally got approved, the timing didn't work out, so Castaway Hawaii started at the end of the 2016-17 school year. Dougherty is hopeful that the top level of the gym will only take two more weeks, and another three for the rest.
While renovations were going on, Yamashiro worked at a small desk in the corner of the gym. "I didn't have access to a lot of my equipment, so I just had to be resourceful," he said.
More information about MYZONE can be found at myzone.org.
About the Writer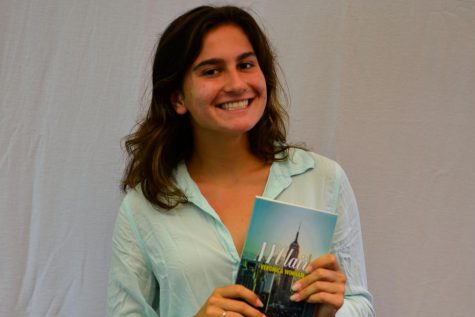 Veronica Winham, Assistant Editor
Senior Veronica Winham loves writing, whether its writing articles for the Seabury Tides and The Maui News to publishing her own book, "NYClaire."...